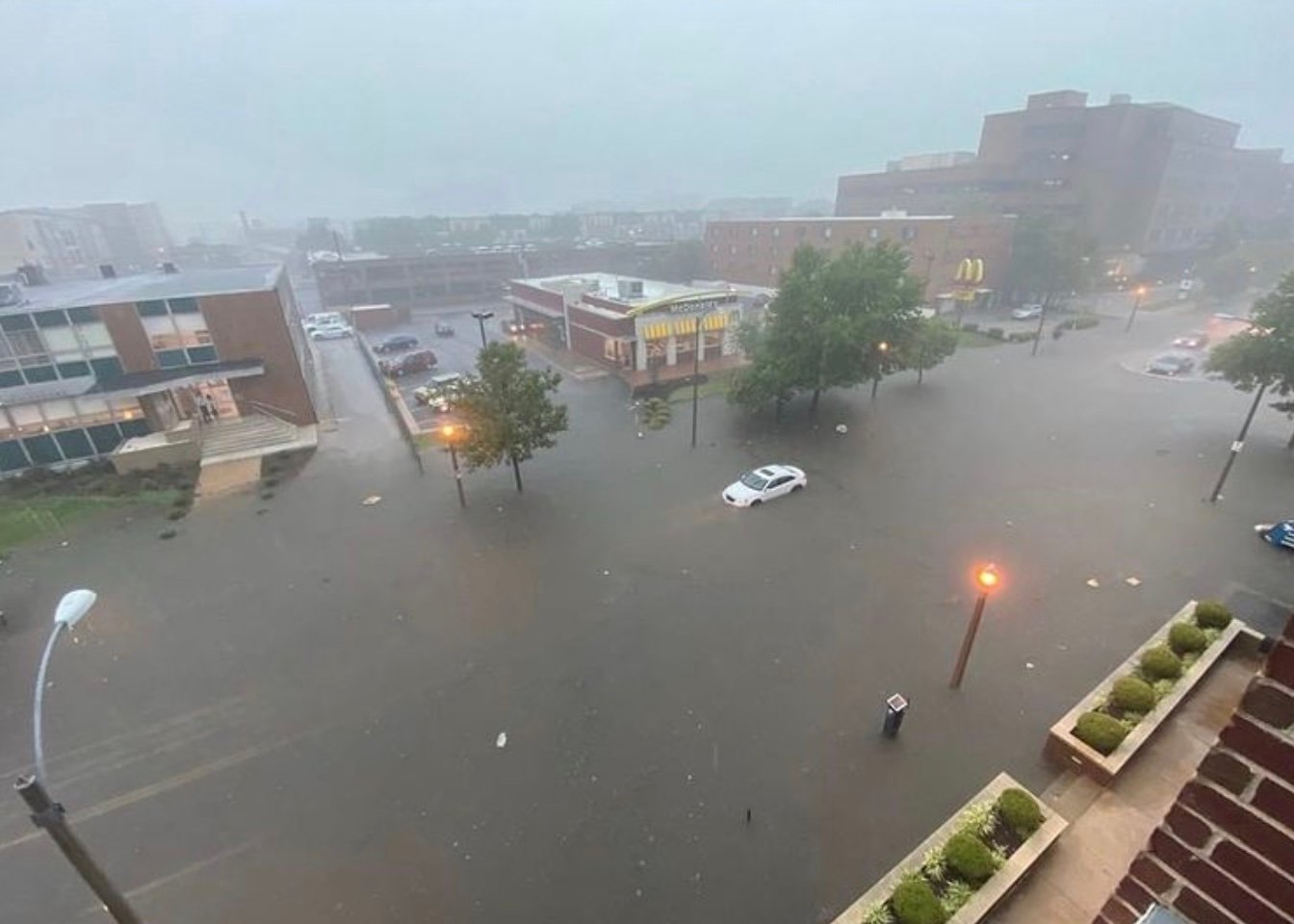 St. Louis Central West End near the New Cathedral was flooded several feet today.
St. Louis, Missouri was hit with a second monster rainfall this week on Thursday afternoon.
Torrential rain fell for over an hour this afternoon in St. Louis City.
Advertisement – story continues below
The entire region was under a flash flook warning until 5:45 PM.

Flash Flood Warning including Saint Louis MO, Florissant MO and Chesterfield MO until 5:45 PM CDT pic.twitter.com/zjTKvSErjY

— NWS St. Louis (@NWSStLouis) July 28, 2022

This photo was taken near the New Cathedral in the Central West End.

 
TRENDING: IT'S OFFICIAL: Second Quarter GDP Comes In at Negative 0.9 Percent — US OFFICIALLY ENTERS BIDEN RECESSION (Video)
Here is the view from south St. Louis City.
BREAKING OVERNIGHT: Several cars stuck in flood water on i-44 in Downtown St. Louis.
Remember never drive through a road that is covered in water. You can't tell how deep it is. #stormmode @kmov @n4tm pic.twitter.com/ZLe2kRK8Ex

— Tyler Klaus (@TylerKMOV) July 26, 2022
Advertisement – story continues below
Delmar Boulevard in north St. Louis is under water.
Flood waters filled @stlglass on Delmar Boulevard Thursday afternoon as a second round of storms entered the St. Louis region.

A laborer at the site said the deluge "wiped out an entire room."https://t.co/Xl3QjL5vwn

— St. Louis Post-Dispatch (@stltoday) July 28, 2022
This is what my street looks like now in the St Louis flood pic.twitter.com/Nr2nSna0yg

— Sarah Kendzior (@sarahkendzior) July 26, 2022
Advertisement – story continues below
One man was killed in the flooding when he drown in his car on Skinker Boulevard.
Thursday's rain followed Tuesday's record rainfall.
ABC reported:
Advertisement – story continues below
St. Louis has recorded 8.56 inches of rainfall since midnight, which surpassed the old record of 6.85 inches set almost 107 years ago on Aug. 20, 1915. In the suburbs northwest of St. Louis, St. Peters received 12.34 inches of rain.

The historic rainfall event caused widespread flash flooding across the region Tuesday morning with some areas getting more than half a foot of rain in just a few hours.
Source material can be found at this site.