Breitbart's Matt Boyle reported an exclusive on the sealed search warrant used in the FBI raid on President Trump's Palm Beach, Florida home, Mar-a-Lago, on Monday.
The warrant that authorized the search of former President Donald Trump's residence at Mar-a-Lago shows it was issued by U.S. Magistrate Judge Bruce Reinhart on Aug. 5, 2022, at 12:12 p.m.—nearly three full days before the Justice Department and FBI conducted a raid to execute it.

The raid did not occur until the morning of Aug. 8, 2022, when federal agents from the FBI arrived at Mar-a-Lago to execute the search warrant.
Advertisement – story continues below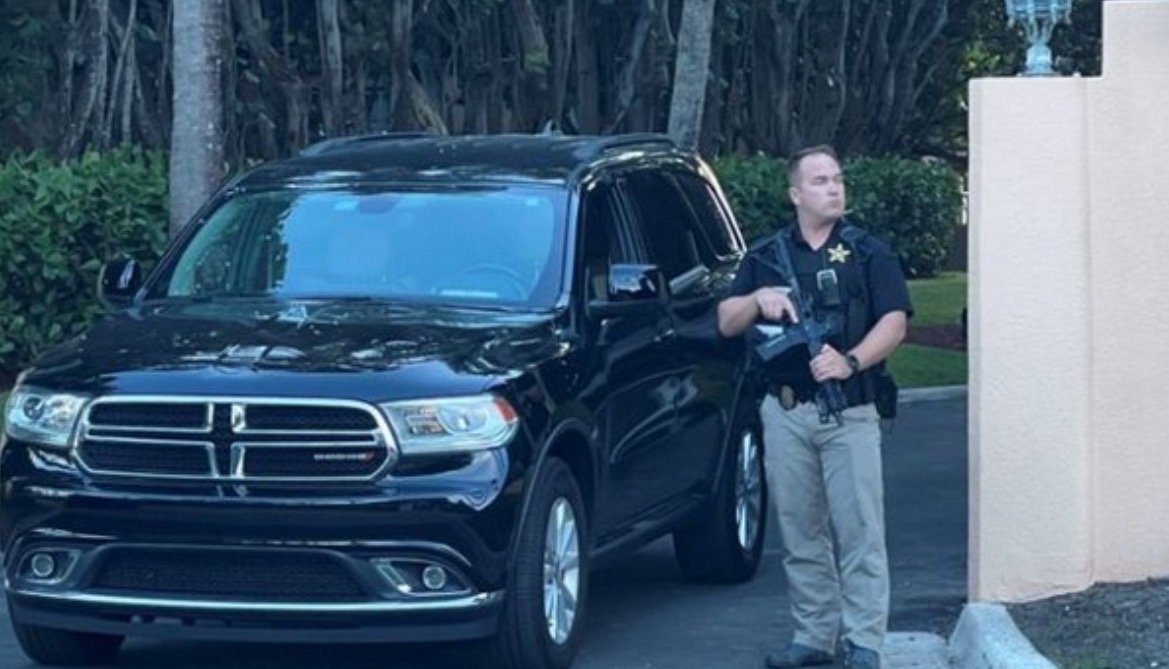 Some of the details match an earlier leak to the Wall Street Journal:
TRENDING: LATEST DEEP STATE LEAK: FBI Retrieved 11 Sets of Alleged 'Classified' Documents – Binders of Photos – Handwritten Notes – Taken in Mar-a-Lago Raid
FBI agents who searched former President Donald Trump's Mar-a-Lago home Monday removed 11 sets of classified documents, including some marked as top secret and meant to be only available in special government facilities, according to documents reviewed by The Wall Street Journal.

The Federal Bureau of Investigation agents took around 20 boxes of items, binders of photos, a handwritten note and the executive grant of clemency for Mr. Trump's ally Roger Stone, a list of items removed from the property shows. Also included in the list was information about the "President of France," according to the three-page list. The list is contained in a seven-page document that also includes the warrant to search the premises which was granted by a federal magistrate judge in Florida.
Advertisement – story continues below
The first receipt lists out 28 numbered items, including some that have sub-headers. Some of the items are actually named like item number 1 which says it was an "Executive Grant of Clemency re: Roger Jason Stone, Jr." or 1A which says it is "Info re: President of France."

Others like item number 2 are less specific. That item says it is a "Leatherbound box of documents." Item 2A says it contained "Various Classified/TS/SCI documents."

Item number 3 says it was a "potential presidential record," and items numbers 5 and 6 both say they were a "binder of photos."
Breitbart also obtained the search warrant attachments, A B, that detail the statutes cited for the warrant and locations to be searched.
Advertisement – story continues below
The three statutes cited cover defense information, destroying federal documents and concealing, removing, or damaging federal documents.
The locations to be searched at Mar-a-Lago covers much of the property including storage rooms and "45 office", except for areas occupied or rented by guests.
President Trump issued a response to Attorney General Merrick Garland late Thursday night calling for the release of the documents in the search warrant. Garland earlier had announced the Justice Department was moving to unseal the search warrant and property list but not the supporting affidavits.
Judicial Watch, which is trying to get the search warrant documents unsealed, filed a motion Friday afternoon bringing Trump's statement to the attention of the south Florida federal court that issued the warrant.
Advertisement – story continues below
As the 3pm deadline looms for DOJ to update the court officially on whether Trump is okay with unsealing the Mar-a-Lago search warrant, Judicial Watch has asked the judge to take notice of Trump's statement last night calling for the release of the docs https://t.co/0b95aPzOZZ pic.twitter.com/anD4qCitOh

— Zoe Tillman (@ZoeTillman) August 12, 2022
Meanwhile Trump has continued to comment on Truth Social:
From 45 on #Truth ? pic.twitter.com/yzpg1T8b9E

— Sara A. Carter (@SaraCarterDC) August 12, 2022
The National Archives released a statement Friday afternoon on Trump's comments about Barack Obama's documents.
Advertisement – story continues below
The National Archives pushes back on Trump's lies: pic.twitter.com/6g1osJuSHU

— Kyle Griffin (@kylegriffin1) August 12, 2022
Source material can be found at this site.