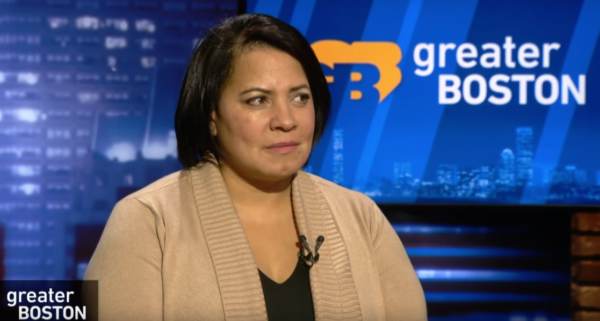 Soros-backed Massachusetts U.S. Attorney Rachael Rollins issued an official statement on Wednesday threatening Americans who are against the genital mutilation of children.
Rollins who supports the transitioning of children at Boston Children's Hospital, calls opposition to the hospital's practices a "hate crime."
Advertisement – story continues below
Via Chuck Ross.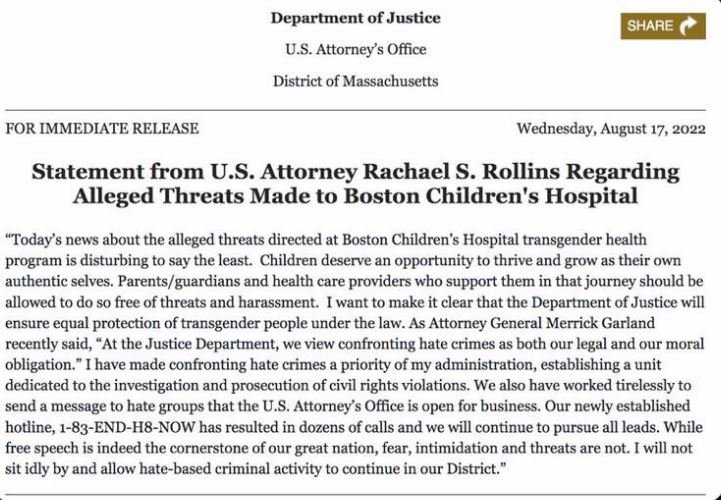 TRENDING: EXCLUSIVE: TRUMP RICO CASE II – Epstein Related Judge Recused Himself from Trump RICO Case Then Signed FBI Warrant for Raid on Mar-a-Lago – FBI Likely Took Docs to Hide from Case
Cassandra Fairbanks reported earlier — Boston Children's Hospital faced enormous backlash this week over a video they created that appears to be promoting "gender affirming hysterectomies" for "transgender" children.
The video, featuring Dr. Frances Grimstad, an obstetrician-gynecologist, went viral after being posted by the popular Libs of TikTok Twitter account.
Advertisement – story continues below
Boston Children's Hospital (@BostonChildrens) is now offering "gender affirming hysterectomies" for young girls pic.twitter.com/JOH5fFtGJ0

— Libs of TikTok (@libsoftiktok) August 11, 2022
In 2019 Rollins made headlines as District Attorney. The Soros-funded radical announced new orders for police officers who are no longer allowed to arrest people for shoplifting, for breaking and entering, for destruction of property/vandalism, for resisting arrest, for disturbing the peace, and for drug offenses.
Rollins also ordered police to refuse access to ICE officials for the arrest any illegals in courthouses — no matter the crime.
Rollins is linked to the far left program originally funded by George Soros to support far left radicals in deep blue cities across the US.
Advertisement – story continues below
The program has helped elect radical attorneys in Chicago, St. Louis, Sacramento and San Diego. On Tuesday Soros-linked Kim Foxx dropped all charges against hate hoaxer Jussie Smollett in Chicago without explanation.
Police are instructed to notify her office if anyone tries to deport an illegal alien.
Source material can be found at this site.