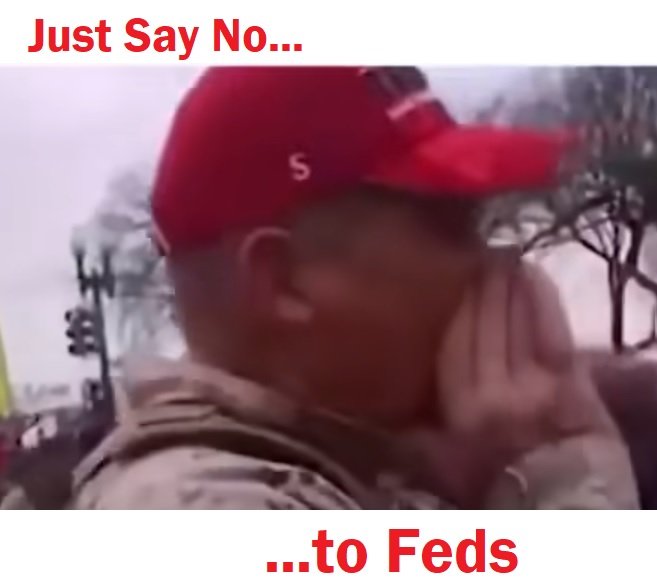 BEWARE OF FEDS
The federal government ran dozens of operatives on January 6th at the US Capitol.
The FBI was running operative, the Capitol Police were running operative, ATF was running operatives. The feds were running operatives in The Proud Boys. The Feds were running operatives in The Oath Keepers.
Advertisement – story continues below
Exclusive: 10 FACTS on the Dozens of Federal Operatives Who Infiltrated the Trump Crowds on January 6th
CNN is now reporting that "federal officials" are offering training on violent confrontations on Election Day.
TRENDING: TRUTH AND COURAGE UNDER FIRE: Ginni Thomas Tells Liz Cheney and Jan. 6 Committee She Still Believes 2020 Election Was Stolen
The "federal officials" are worried about violence on Election Day. Why?
And, of course, "federal officials" tipped off CNN on this threatening development.
Advertisement – story continues below
For the record, despite the complete lawlessness on the left on November 3, 2020.
** The hundreds of thousands of late night ballots that mysteriously dropped at 3 AM
** The shoving of stacks of ballots in the counting machines numerous times
** Blocking GOP observers from the counting rooms
** Abusing and threatening GOP observers in counting rooms
** Sending GOP observers to lunch then locking the rooms
** Late night ballot drops in vans
** Shutting down counting for the night – then starting it up without warning
** Flipping votes from Trump to Biden on national TV
** Counting for days after the election
** Mysterious number of ballots that kept showing up after the election
** The IMPOSSIBLE results for Joe Biden
** The massive record-breaking turnout for President Trump
** The lies by Big Media
And on, and on, and on…
There was NO VIOLENCE!
But now the feds are worried about election violence?
THIS IS A CLEAR SIGNAL THAT THE FBI IS PLOTTING A NEW ASSAULT ON THE AMERICAN PEOPLE!
Advertisement – story continues below
DO NOT FALL FOR IT!
CNN reported:
Federal officials are offering state and local election officials training to "safely de-escalate" confrontations with voters that could turn violent ahead of November's midterm elections, according to an email to election workers obtained by CNN.

The move underlines the level of concern ahead of the upcoming elections and comes in response to a steady stream of violent threats and harassment that election officials have faced since the 2020 election, much of it from people who falsely claim that the vote was marred by fraud.

Advertisement – story continues below

The training includes "non-confrontational techniques" for dealing with angry voters as well as how to determine if an "emergency response" is needed or if law enforcement should be alerted, the Department of Homeland Security's Cybersecurity and Infrastructure Security Agency (CISA) said in an email this week to election industry workers.

CISA encouraged election officials to contact the agency for in-person or virtual training, because "personal safety is paramount."

"The current environment is arguably much more complex than it's ever been for election officials, who are doing the important work of securing their election infrastructure and protecting our democracy," Kim Wyman, CISA's senior election security lead, said in a statement to CNN. "This includes unprecedented levels of threats and harassment targeting election officials."
Source material can be found at this site.