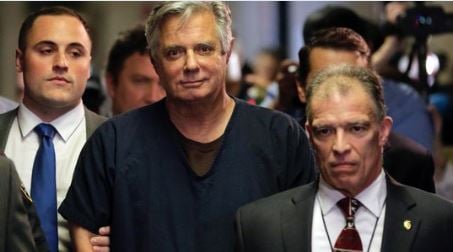 Andrew Weissmann has been intimately involved in some of the biggest corruption scandals in US history. Weissmann was involved in FBI activities with the mob in New York in the 1990s.  He was a key member of the Enron Task Force and also was involved in the sale of 20% of US Uranium to Russia.  After all his corrupt acts, he then led the corrupt Mueller Special Counsel. 
In all these scandals Weissmann's actions have been consistently corrupt and abhorrible. 
Advertisement – story continues below
Attorney Sidney Powell shared the following about Andrew Weissmann:
The hallmark of the Department of Justice for decades has been to seek justice not convictions and if that meant letting a guilty person go free to make sure the government did it all right, then that was supposed to happen.

TRENDING: WHAT? Election-Denier Hillary Clinton Says "Right-Wing Extremists" Have a Plan to "Literally Steal the Next Presidential Election"

But Mr. Weissman, he couldn't spell the word "ethics" despite the fact somebody actually had him teach a course in it one time, I think over in England.  His mantra is 'the end justifies the means'… he targets people, individuals. And you're right, I had no doubt from the moment he was picked for the Mueller Special Counsel operation, that he would have filed RICO charges against President Trump and seized every asset he ever had, if there had been any way he could do that.

He's just filled with hatred for apparently most Americans and certainly anybody affiliated with President Trump.  And he's willing to do anything to destroy them. 
Advertisement – story continues below
Attorney David Schoen shared on Weissmann:
I have said, from my personal experience at least with this case, I consider Andrew Weissmann to be the most ethically bankrupt prosecutor I have ever encountered, and that's a pretty broad spectrum of prosecutors over the course of my career…
Roger Stone says about Weissmann:
I believe what the bible says in Hebrews 10: Vengence is served for the Lord – but there is a special place in hell for Andrew Weissmann."
Roger Stone shared that Weissmann was the de facto head of the Mueller investigation.  "I think it's now clear that Mueller was around the bend mentally," Stone said.
Advertisement – story continues below
According to Paul Manafort, this appears to be the case.
Paul Manafort worked with the corrupt Podesta brothers in Ukraine in the mid-2000s.  It turned out that John Podesta was Hillary Clinton's Campaign Manager in 2016 and Manafort was President Trump's Campaign Manager for a couple of months.
Manafort and the Podestas brought a number of individuals to Ukraine in an effort to bring some credibility to their candidate there, Petro Poroshenko.  It's unknown how much these visitors were paid by the Podestas and Manafort's Ukrainian candidate or if they filed the correct forms with the US government for visiting there.
Hillary visited Ukraine –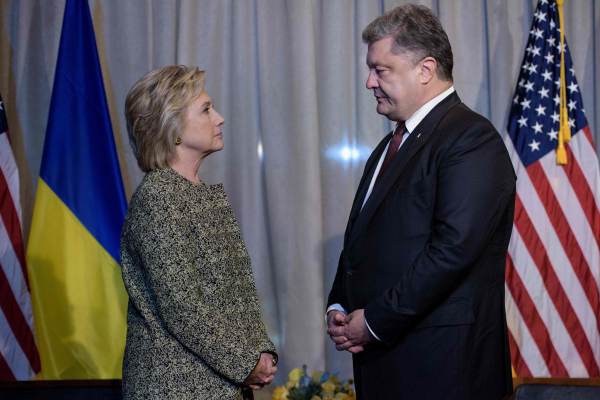 Advertisement – story continues below
The FBI had some questions for Manafort in 2014:
Paul Manafort thought he was in the clear in the summer of 2014 after meeting with federal prosecutors and FBI agents about his Ukrainian income, bank records and income tax returns.
But this wasn't the case.  The FBI held on to this information that Manafort gave them and then used it after Manafort went to work for President Trump's campaign in 2016.  [The Podestas whom Manafort worked for in Ukraine were never indicted.]
Manafort associates say he never heard from the agents again — that is, not until Mr. Mueller was appointed special counsel and recruited Andrew Weissmann from Justice's fraud division.

Next, Manafort was under criminal investigation, with Mr. Weissmann leading the prosecution.

"The Office of the Special Counsel charged Mr. Manafort with the very conduct he voluntarily disclosed to DOJ almost three years prior to the appointment of Mr. Mueller as Special Counsel," Mr. Downing said in his motion to disqualify Mr. Mueller's office…

…In April 2017, Mr. Weissmann met with Associated Press reporters who briefed him on their Manafort investigation, according to documents obtained by Mr. Downing, who accused Mr. Mueller's team of leaking grand jury testimony.

In October, Mr. Weissmann brought the first of several indictments against Manafort…

…Manafort never was offered a chance to settle his tax delinquencies with the Justice Tax Division.
The opportunity to settle his tax issues with the IRS would have been customary in most cases but not in this case with Weissmann.  Also, Weissmann's 'off-the-record' meeting with AP reporters was also suspect.  These reporters supposedly shared information regarding Manafort's storage locker and they reportedly asked Weissmann, then working for the DOJ, to arrest Manafort on FARA abuses – crimes that up to that point in time had rarely, if ever, been prosecuted because they relate to simply filling out a form on activities with foreign individuals and entities.
Judicial Watch obtained the information regarding the AP reporters' meeting with Weissmann.
These shocking FBI reports evidence a corrupt collusion between DOJ and media, specifically The Associated Press, to target Paul Manafort– are further reason for President @RealDonaldTrump to pardon Manafort and others caught up in Mueller's abusive web. https://t.co/M4WvDSBBFq

— Tom Fitton (@TomFitton) October 22, 2019
We later found out that these AP reporters were connected to Fusion GPS.
A short time later, the FBI showed up at Manafort's home and arrested him.  Manafort at the time was communicating with Sean Hannity via text messages.
In the text exchanges between Trump's former campaign manager and Fox News host Sean Hannity, Manafort complains about Mueller's intimidation tactics and lack of "fight" from conservatives.

Hannity responded to Manafort's August 11 text message and rightfully pointed out how corrupt and biased Mueller's special counsel team was…

…Manafort also disclosed to Sean Hannity that Mueller's "pit bull" Andrew Weissmann tried to prevent him from spending Thanksgiving with his 3-month-old grandson by dragging out his bail resolution.

"I spent [Thanksgiving] with my family and my 3 month old grandson. Weissmann made an issue of that too," Manafort said in a November 28, 2017 text.
In a recent interview with Breitbart, Manafort shared:
Manafort said Andrew Weissman, lead prosecutor for former special counsel Robert Mueller, sought to obtain false testimony from him in exchange for leniency in the DOJ's prosecution of him regarding violations of the Foreign Agents Registration Act (FARA).
"[Weissmann] needed me – in his mind – to create a link — which was a crazy idea to start with — to the Russia narrative that he was putting out," Manafort remarked.

Manafort said the DOJ wanted him to provide false testimony in support of the "Russia narrative" targeting former President Donald Trump.

"They never made a direct offer," he stated. "They made it very clear: [The Department of] Justice would go easy on me if I would just recognize the narrative that [Andrew] Weissmann was trying to put out there on Trump's involvement with Putin. Well, if I'd recognized it, I'd've been lying, and I wasn't willing to do that, and I paid a price."

He added. "They put me in solitary for 11 months and they put me in prison after that for another year."
On December 24, 2020, President Trump pardoned Manafort.
Weissmann abused another American in an attempt to have President Trump removed from office. 
Weissmann is one of the most corrupt individuals to ever work in the DOJ.  He doesn't seem to care who he hurts, it's all about the end game. None of Weissmann's corrupt and dishonest actions over the years prevented Weissmann from moving up the ranks in the DOJ, they helped him. Weissmann and Robert Mueller and others in the Enron Task force destroyed over 80,000 Arthur Andersen professionals' careers in the early 2000s. Weissmann's actions led to four Merrill Lynch professionals facing time in prison, one in solitary, all were later found innocent.
Weissmann then went on to lead the Mueller witchhunt in its attempted coup of the President of the United States.  The list of unethical and arguably criminal actions by Weissmann in the Mueller witchhunt is unending.
Weissmann's corrupt actions are the standard for the DOJ today.
Weissmann is still trying to get President Trump. 
SEE ALSO:
EXCLUSIVE – ANDREW WEISSMAN PART I: The Many Corrupt Acts of Former DOJ Attorney and Mueller "Pitbull" Andrew Weissmann
EXCLUSIVE – ANDREW WEISSMANN PART II: 80,000 Innocent Professionals Lost Their Jobs Due to a Weissmann Indictment that Was Ultimately Overturned by Supreme Court
Advertisement – story continues below
EXCLUSIVE – ANDREW WEISSMANN PART III: For 30 Years a Condemned Man Sits in Prison Because of Weissman's Actions in the Most Corrupt Prosecution in DOJ History
EXCLUSIVE – ANDREW WEISSMANN PART IV: "I Consider Andrew Weissmann to be the Most Ethically Bankrupt Prosecutor I Have Ever Encountered" – Attorney David Schoen (VIDEO)
EXCLUSIVE – ANDREW WEISSMANN PART V: Weissmann Concealed the FBI's Source Used in Indictments in the Early 1990's Was Mafia Hitman Responsible for 50 Murders
EXCLUSIVE – ANDREW WEISSMANN PART VI: Exclusive Interview with Attorney Sidney Powell – "I'm Very Concerned About the State of the Country Right Now" – (VIDEO)
Advertisement – story continues below
EXCLUSIVE – ANDREW WEISSMANN PART VII: Weissmann Used a Corrupt FBI Agent as a Witness Who Later Was Charged with Several Murders Related to Case
EXCLUSIVE – ANDREW WEISSMANN PART VIII: Weissmann and the Mueller Gang "Accidentally" Wiped 31 Phones Clean After DOJ IG Requested Phones
EXCLUSIVE – ANDREW WEISSMANN PART IX: Weissmann Covered Up Russian, Clinton and Obama Actions Related to the Sale of Uranium One to Russia
EXCLUSIVE – ANDREW WEISSMANN PART X: "There Is a Special Place in Hell for Andrew Weissmann" – Exclusive Interview with Roger Stone
Advertisement – story continues below
EXCLUSIVE – ANDREW WEISSMANN PART XI: To Tie the Trump-Russia Collusion Lie to Russia, Weissmann Indicted 13 Russians, Most Were Entirely Made Up
Source material can be found at this site.