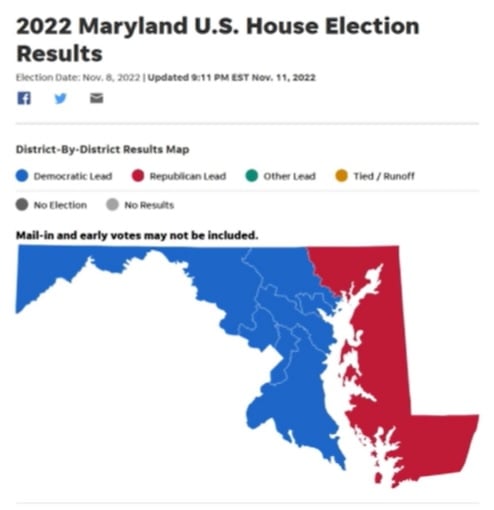 An individual by the name of Logical Brad claims he caught the Democrats stealing a US House seat in Maryland.  Another huge drop of ballots late in the week gave this one to the Democrats.
Isn't it strange that the large ballot drops always go to the Democrats?
Advertisement – story continues below
Logical Brad writes:
Democrats in the Maryland District-6 Race between Parrott (R) and Throne (D) padded the vote totals on Friday by 10,000 votes while nobody was looking. Flipping the seat Blue, here is the evidence.
TRENDING: BREAKING EXCLUSIVE: Tens of Billions of US Dollars Were Transferred to Ukraine and then Using FTX Crypto Currency the Funds Were Laundered Back to Democrats in US
The Republican was ahead on Thursday night by 1,600 votes.  (Again, why are we still counting ballots into Thursday night and Friday morning – three days after the election?)
The next day the Dem was ahead.  What Logical Brad points out is what we also saw in the 2020 Election in various races.  The reporting shows that less than 1% of the votes to count were added overnight which would equal around 1,500 total votes but instead 10,000 total votes were added.  When this large basket of votes was dropped, they went to the Democrat.
Advertisement – story continues below
Watch the video below.
The producer of this piece says that if you enjoy his work a Cup of Coffee Goes a Long Way! https://www.buymeacoffee.com/BradCGZ
For All Links, Merch Live Streams: Https://LogicalBrad.tv
Source material can be found at this site.