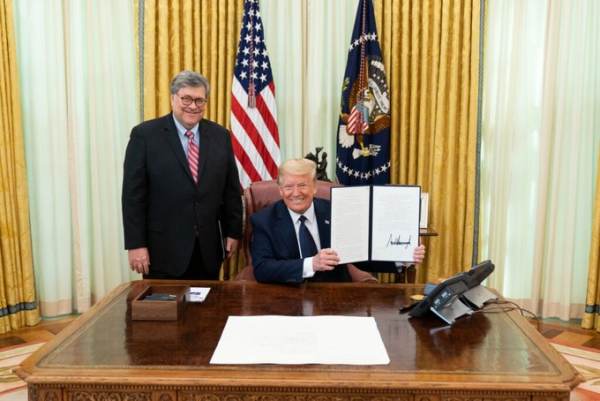 Bill Barr is suffering from the Trump curse that crushes any and all Deep State actors who pretend to be good citizens when they are not.   
Bill Barr allowed criminals to run his DOJ and FBI.  Corrupt Chris Wray still runs the FBI.  Barr never addressed the crimes by members of the Mueller gang who attempted a coup of the Trump Administration.
Advertisement – story continues below
Barr never addressed Big Tech censorship of conservatives.  Barr never addressed the corrupt acts leading up to the impeachments.  He never addressed the Biden's illegal deals in Ukraine or China or Russia.  Barr stayed away from Obama's actions with Iran and Hillary's many crimes.
Barr then failed monumentally by not addressing the many crimes in the 2020 Election that led to the certification of an uncertifiable election that gave the election to Biden.
TRENDING: BREAKING UPDATE: — NOW FOUR ARIZONA COUNTIES Delay Certification of the Tainted 2022 Midterm Election – Gila, Conchise, Mohave, and Yavapai
The FBI and DOJ are so bad today that good and honest Americans are afraid of being raided at their home in the middle of the night for doing what is right and honest and constitutional.
Innocent Americans sit in jail for two years now after the Jan 6 set up and Barr doesn't give a damn.
Advertisement – story continues below
Now Bill Barr believes that the MAGA crowd gives a damn about what he says.
The Daily Mail reported today on Barr and the consistent effort by elite politicians in the GOP who want President Trump gone:
Former Attorney General Bill Barr tore into Donald Trump as 'least able to unite' the GOP and 'most likely to lose the general election' in 2024 after the former president announced a third run for the presidency.

'It is painfully clear from his track record in both the 2020 election and the 2022 midterms that Donald Trump is neither capable of forging this winning coalition or delivering the decisive and durable victory required,' Barr wrote in an op-ed for Bari Weiss' Common Sense publication entitled, 'Trump Will Burn Down the GOP. Time for New Leadership.'
Yesterday Paul Ryan was trying to pretend that people care about what he says when he attacked President Trump for the umpteenth time.
Advertisement – story continues below
Paul Ryan Trashes Trump: 'We Stick with Trump, We Keep Losing Elections' – Calls Himself a "Never-Again-Trumper" (VIDEO)
Bill Barr, Paul Ryan, Mike Pence, Liz Cheney, Jeb Bush,  and many others have no idea how much they are disdained by the average American.  President Trump was an outsider and we see what happens to him for standing up for America.  Trump gets it from all sides but his reward is his integrity and his massive and growing base.
Americans hate the elite and backstabbers.  Bill Barr doesn't realize he's in that group. 
Source material can be found at this site.