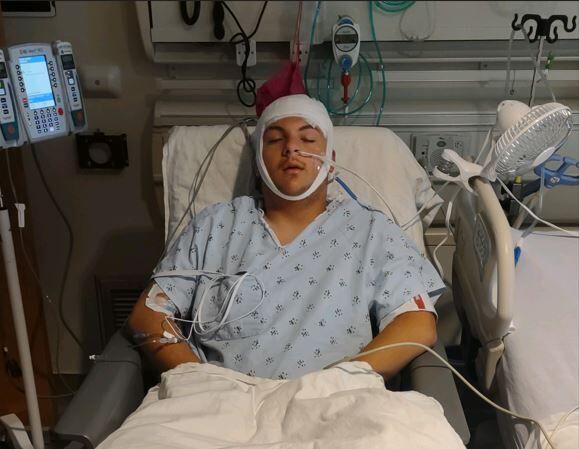 A defensive lineman for Mount Pleasant High School in North Carolina who appeared to be in his prime at the age of 16 was found unconscious on the floor of his girlfriend's house.
Tylin McDowell, a player for the Mt. Pleasant Tigers, played and excelled as a defensive lineman during a match with Maiden Blue Devils for the state playoffs.
Advertisement – story continues below
Even though the Tigers suffered a 46-13 defeat that evening, it appeared that nobody was seriously injured and left the field healthy. And Tylin and other Mount Pleasant athletes were getting ready for the upcoming wrestling season, Independent Tribune reported.
One day after the match, Tylin was found unconscious on the floor at his girlfriend's house in Mount Pleasant.
TRENDING: BREAKING UPDATE: — At Least THREE ARIZONA COUNTIES Delay Certification of the Tainted 2022 Midterm Election – Gila, Conchise, Mohave, and Yavapai
WBTV reported that Tylin was transported to Atrium Northeast, where doctors found something much more serious than dehydration. According to the doctors, there was a blockage in the blood supply to his brain, an indication that he was having a stroke.
He underwent immediate surgery to remove the clot and was then transferred to Levine Children's Hospital, where he is currently making a full recovery.
Advertisement – story continues below
Doctors were baffled about what caused Tylin's stroke. Tylin is making progress and is now able to stand and take a few steps
According to Tylin's father, Tim McDowell, Tylin has been very active from a very young age.
"He's always happy – happy, kind and generous," he added.
"The first thing you think of is ,'Oh, he must be dehydrated from the game the night before,'" Tim said. "To be so young having a stroke, it's scary."
"I believe that whenever he pulls through with this, it will be a huge boost for him and that this will be something for him [that] he can help other people with, knowing he has overcome it himself," Tim said.
Advertisement – story continues below
Crystal Rodgers-Butt, Tylin's mom, believed that it was a miracle her kid is still alive.
"I will tell you the truth of this: I have struggled for the past couple years in my faith," Crystal told Independent Tribune. " I have struggled being a Christian, and I have struggled with the world in general. But I'll be honest: I saw the power of prayer. I saw it. I felt it."
"It's indescribable. It's brought me back to God. It's brought me closer to God than I've been in years. It just made me feel the power of prayer. I can deny God and Christianity all day, but it all went back to my faith. I know it sounds so cliché to say that 'During the darkest times, you find God,' right? But it really is a miracle what's happened with Tylin."
Despite the fact that Tim and Crystal were no longer a couple and had each found love and settled down with their spouses, they remained significant figures in Tylin's life.
Advertisement – story continues below
According to Tim and Crystal, neither of them has a history of strokes in their families.
Both parents thought their son's blood clot was caused by playing football, but tests proved otherwise.
"I honestly thought it was something from football because he had just played the game the night before," Crystal said. "I thought, 'I bet he has another concussion.' I just immediately thought 'football.'"
Tim said, "It's not confirmed, but we believe it came from a hit he took Friday night in the football game during a play just before halftime where his helmet was knocked off. Upon further review, coaches said they didn't see a blunt hit. You see where he was face-masked partially, but it still caused Tylin's neck to jerk to the side."
Advertisement – story continues below
"It's scary. Mount Pleasant just got new helmets before the season, and you try to keep him as safe as you can. But at the end of the day, it's still football. It was really disbelief. You just don't hear of anyone his age having a stroke."
"Some of the other surgeons were thinking that maybe he had an underlying health condition that went undetected, but all reports from CMC are leaning toward trauma," Tim continued.
Source material can be found at this site.