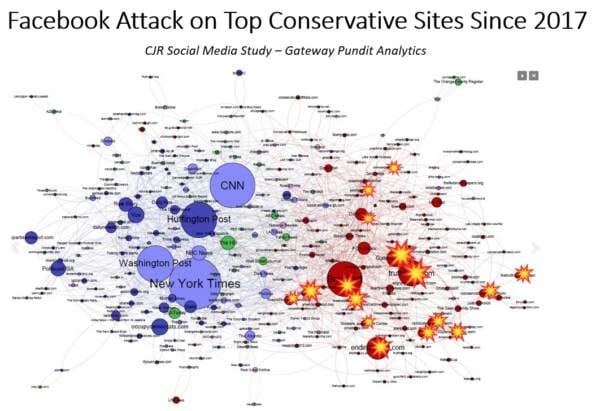 The corrupt actors leading today's far-left Democrat party are at it again.  The Gateway Pundit uncovered their playbook on how they are going to target and destroy the GOP Congress starting in 2023. 
The Democrat party has been taken over by corrupt individuals who use criminal techniques to target and destroy their competition on the right.  It's been easy for them since the leaders of the GOP either don't seem to care or don't fully grasp the destruction of America caused by these far-left fascist communist groups and their weak opposition.
Advertisement – story continues below
In 2017 after President Trump ran away with the 2016 Election the far-left was outraged and ready to do anything to stop Trump.  The Gateway Pundit reported on their leaked report where they planned out how they were going to destroy the most effective conservative-leaning websites on social media.
A year or so later we revisited their efforts and were amazed at how successful they were in shutting down or severely censoring their conservative opposition on the social media platforms.
TRENDING: PROOF: Crooked Secretary of State Katie Hobbs Had Twitter Silence Her Critics in Arizona – Prior to Gubernatorial Run – Data From MO vs. Biden
The GOP leadership was not aware of this and foolishly was not worried about the left's actions.
Here's Proof That Facebook Worked with Soros-Funded Media Matters to Eliminate Pro-Trump Conservative Content on the Platform
Advertisement – story continues below
Brock's related efforts have also involved funding an effort to find women to bring sexual abuse accusations against President Trump.
David Brock was also been accused of funding untraceable millions to anti-conservative causes.
More recently Brock was behind an initiative to target attorneys involved in attempting to save our country from a stolen 2020 Election.  Brock targeted these attorneys in an effort to harm these men and women for bringing legit cases to the courts.
After going unopposed in his many corrupt efforts, Brock now is going after the GOP members in Congress in an effort to damage their names and careers like he has done in the past.
The GOP Congress has no idea what is coming!
Advertisement – story continues below
We've obtained a copy of Brock's latest playbook from Mel K at the Mel K Show.
It reads like fiction when discussing conservative actions to date, using total projections like Democrats always do to describe conservatives.
Brock shares in his first two paragraphs (see highlights added):
Advertisement – story continues below
The precarious Democratic majority in both the Senate and House makes it probable that Republicans will control at least one chamber following the 2022 midterm elections. Lacking a forward-looking agenda , and aggrieved by the effectiveness of the January 6th Select Committee (it was a flop – Americans realize that innocent people are behind bars in the DC gulag), Republicans will spend the next two years aggressively investigating President Biden, members of the Administration, and the President's family. They will do so without regard to facts (we have a laptop), without concern for fairness (will create committes based on the constitution, not Kangaroo Courts like the Jan 6 committee), and without limitation. They seek to grind down the entire executive branch, to limit the White House's effectiveness, to halt forward momentum (record inflation, highest gas prices on record, failing companies and product shortages), and to engage in character assassination that distracts from real issues, creates a false perception of corruption, runs up legal bills, and threatens the livelihoods of those caught in their web of lies (total projection).

Ultimately, their objective is to employ scandal-outrage politics to ensure Democrats lose the presidency in 2024 (Democrats doing good enough job at that themselves but will have more Fetterman's if election systems aren't fixed). Representative Jim Jordan essentially admitted as much when he spoke to the CPAC conference in early August, telling the crowd that the investigations Republicans plan to conduct "will help frame up the 2024 race, when I hope and I think President Trump is going to run again. And we need to make sure that he wins." Republican Leader Kevin McCarthy has declared that they'll "investigate the Bidens' shady business dealings when Republicans take the House in November." And the likely chair of the House Oversight Committee is already focusing his staff on "Biden Family Investigations," opining that it is a "matter of national security to know if President Biden is compromised because of his son's shady business dealings with foreign adversaries." (The Bidens are a criminal enterprise.)
Corrupt Brock's memo goes on and on with more of the same.  What garbage.  In the end, Brock announces that the group will be formed as a nonprofit so it won't have to pay taxes.
Advertisement – story continues below
Note to GOP – this is where you start – this group's tax status is as a non-biased entity – all Brock entities should be investigated for proper tax classifications – this is how the Democrats function and how they obtain dark money for their anti-American projects.
Source material can be found at this site.