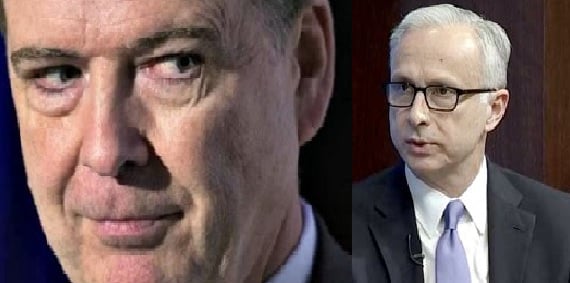 Corrupt former FBI Director James Comey was behind the attempted coup of President Trump using lies made up by Hillary Clinton that President Trump was connected to Russia.  Comey's top attorney at the FBI was James Baker.  Together they attempted a coup of the President of the United States.
In their efforts, they used the media and Big Tech as allies to remove Trump from office.  Comey was fired by President Trump and Baker later left the FBI in shame as well.  Both men were crooks.
Advertisement – story continues below
When Baker left the FBI, Comey praised him as a good man.  When this happened it confirmed that Baker was a crook, which we all suspected.
A great public servant retired from the FBI today. Jim Baker's integrity and commitment to the rule of law have benefitted our country through 5 presidents, of both parties. We are fortunate he and so many others choose to devote their lives to justice.

— James Comey (@Comey) May 5, 2018
TRENDING: J-6 Political Prisoner Pete Schwartz: Juror #8 Flipped Me Off as They Read the Guilty Verdict Against Me (VIDEO)
We later found out that Baker was involved in a task force whose purpose was to prevent President Trump from winning reelection at all costs.  Baker had a terrifically corrupt past.
Advertisement – story continues below
Deep State Attorney James Baker Came to Twitter "Committed to… an Open Internet and Freedom of Expression" – It Was a Lie
We learned quickly that James Baker cannot be trusted.  Elon Musk did too this week.  He fired Baker as a result.
Baker was involved in the release of Twitter-related information connected to the Hunter laptop over the weekend.  Baker prevented much of the information from being released.  Musk found out that he was still working for the Deep State.  Musk fired him.
BREAKING: Elon Musk Fires Twitter's Deputy General Counsel James Baker "In Light of Concerns" About His Role in Suppression of Hunter Biden Laptop Story
James Baker should have been arrested a long time ago. 
Source material can be found at this site.