Democrat Senator John Fetterman is currently under doctor's care and being treated for 'depression' at Walter Reed National Military Medical Center in Bethesda, Maryland.
But he "sponsored" another bill from the hospital on Thursday.
This is one day after he 'sponsored' a bill on Wednesday.
Sen. Fetterman joined @SenBrianSchatz, @SenatorBaldwin, @SenDuckworth, @SenatorDurbin, @SenCortezMasto to cosponsor new legislation to help stop illegal child labor.

Cracking down on illegal child labor is absolutely common-sense.

— Senator John Fetterman (@SenFettermanPA) March 2, 2023
Fetterman's Chief of Staff blocked a reporter for daring to ask how Fetterman is able to 'sponsor' a bill while he is hospitalized.
Gisele appeared by her husband's side after he had a massive stroke last May.
On Friday, I wasn't feeling well, so I went to the hospital to get checked out.

I didn't want to go – I didn't think I had to – but @giselefetterman insisted, and as usual, she was right.

The good news is I'm feeling much better + I'm well on my way to a full recovery. pic.twitter.com/WQ5X6QgQen

— John Fetterman (@JohnFetterman) May 15, 2022
However, Gisele abandoned Fetterman and took off to Canada after he was hospitalized a couple weeks ago.
We did some scary things but we did them together. We ziplined over Niagara Falls and August got stuck ?. We talked about flexibility and the need to always have an open heart and an open mind. pic.twitter.com/IyuvBBXaOe

— Gisele Barreto Fetterman (@giselefetterman) February 24, 2023
Gisele abandoned her husband again on Thursday.
Instead of being by her husband's side at Walter Reed in Bethesda, Gisele is in Braddock, Pennsylvania, according to the 'location' in her latest tweet.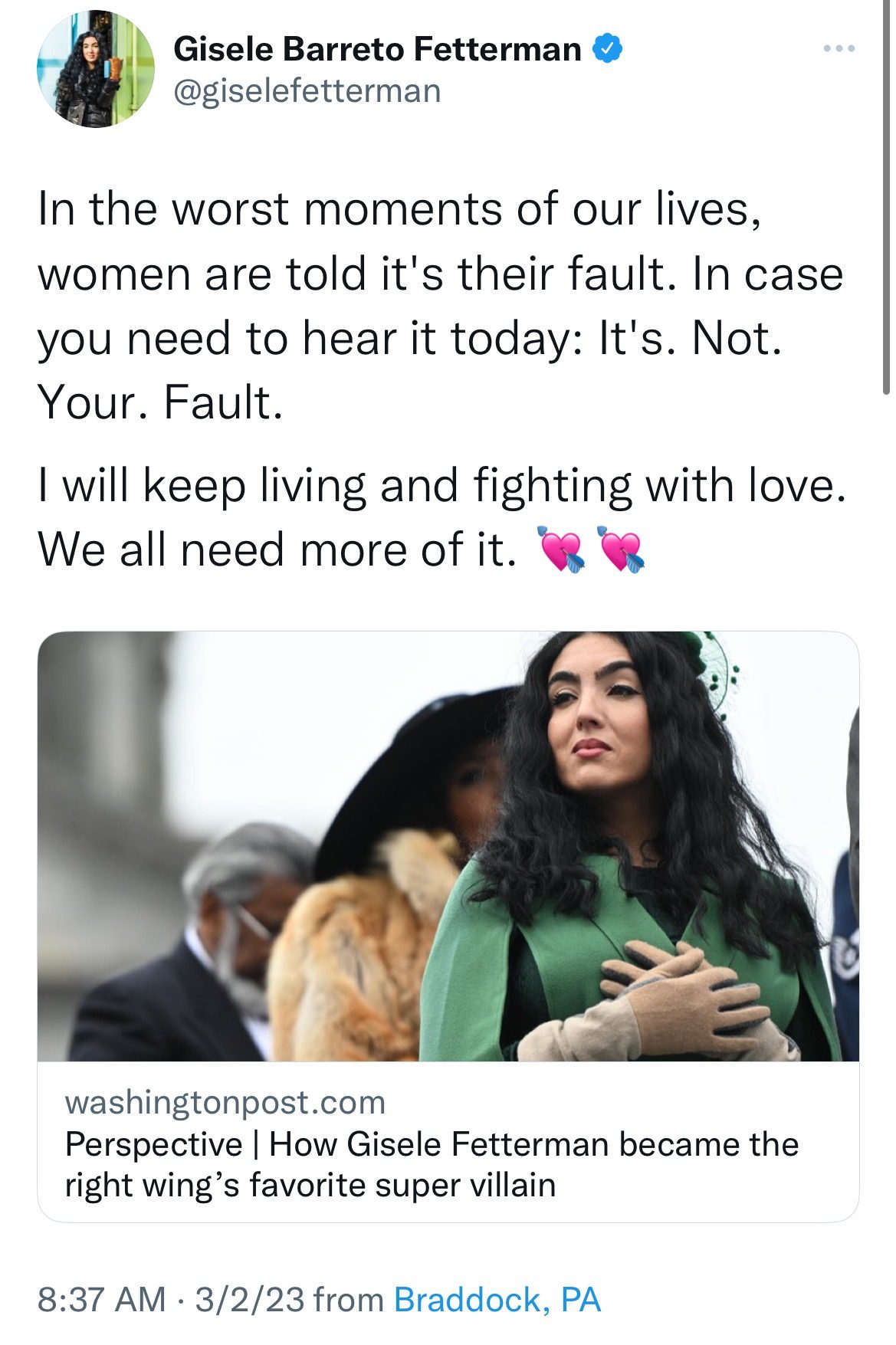 Fetterman is in such bad shape that Pennsylvania Republicans are calling on him to appear on camera to prove he is "alive and well" or resign.
"Because of the now confirmed lies that were told during the 2022 general election regarding the health of Senator John Fetterman, as well as the threats made against a journalist who interviewed him, the Washington County Republican Party refuses to take assurances from the Office of the Senator or Democrat operatives that Fetterman is able to carry out his duties as Senator," the Washington County Republican Party said in a Facebook post.
"As such, we call upon Senator Fetterman to appear on camera to show us he is alive and well, and if he is unable to do so, we call upon our elected Representatives in Washington, Senator Casey and Congressman Reschenthaler, to intervene immediately." they said.
"Ultimately, if Fetterman is unable or unwilling to carry out his duties as a United States Senator, then we ask for his resignation and call for a special election to be held this year; no more lies or games."
Source material can be found at this site.