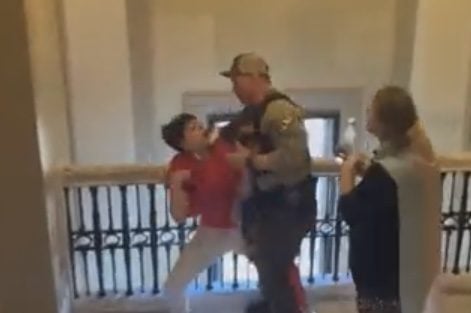 A trans activist was arrested inside Oklahoma Capitol yesterday after the activist hurled water at Republican Representative Bob Ed Culver and proceeded to attack a police officer.
The incident occurred shortly after Oklahoma lawmakers voted for gender transition procedures to be banned for minors.
Rep. Culver initially stated he wouldn't press charges but after finding out a state trooper was attacked Culver decided to press charges.
Culver told the press "If water being thrown on me had been the extent of the action taken, I would not have given it a second thought. However, I cannot stand by while our highway patrolmen are assaulted for simply doing their jobs,"
He would continue "Taking all of that into consideration, I have decided to press charges against the individual who assaulted me.
WATCH:
A trans activist in the Oklahoma State Capitol poured water on Rep. Bob Culver today, and then assaulted a police officer!

Here he is screaming maniacally for help as the officer takes him down.

The good news: The House passed a bill to end child transition! pic.twitter.com/L786NVQE8m

— Billboard Chris ???? (@BillboardChris) February 28, 2023
Oklahoma 4 News reported the play by play moments of the attack:
But after the vote, when lawmakers were leaving the House floor, a protester hurled water at State Representative Bob Ed Culver, R-Tahlequah..

The protester was then escorted out by an Oklahoma State Trooper.

At the fourth floor stairwell on the southwest side, the protester threw the water again but this time at the trooper. That is when the trooper went in for an arrest. He followed the protester down the stairs until the two became physical.

Once detained by the trooper, the protester swung and open-handedly hit the trooper on the shoulder. After contemplating the event, Culver decided to press charges.
Billboard Chris reported the trans activist that was arrested was previously part of the protests that occurred on February 6th at Oklahoma capitol.
LOOK:
This was the two of them at the Oklahoma State Capitol on February 6th, during the transurrection. pic.twitter.com/eyiHhcOA9R

— Billboard Chris ???? (@BillboardChris) March 1, 2023
The Gateway Pundit previously reported that over a hundred trans activists stormed Oklahoma Capitol in early February over a bill that would ban gender reassignment surgery for anyone under the age of 26.
A mob of #trans activists took over the Oklahoma Capitol building to try stop the state's Republican lawmakers from passing bills that would outlaw the transitioning of minors require teachers to inform parents if students identify as trans. pic.twitter.com/TPxdhKe9Eq

— Andy Ngô ???? (@MrAndyNgo) February 7, 2023
Source material can be found at this site.