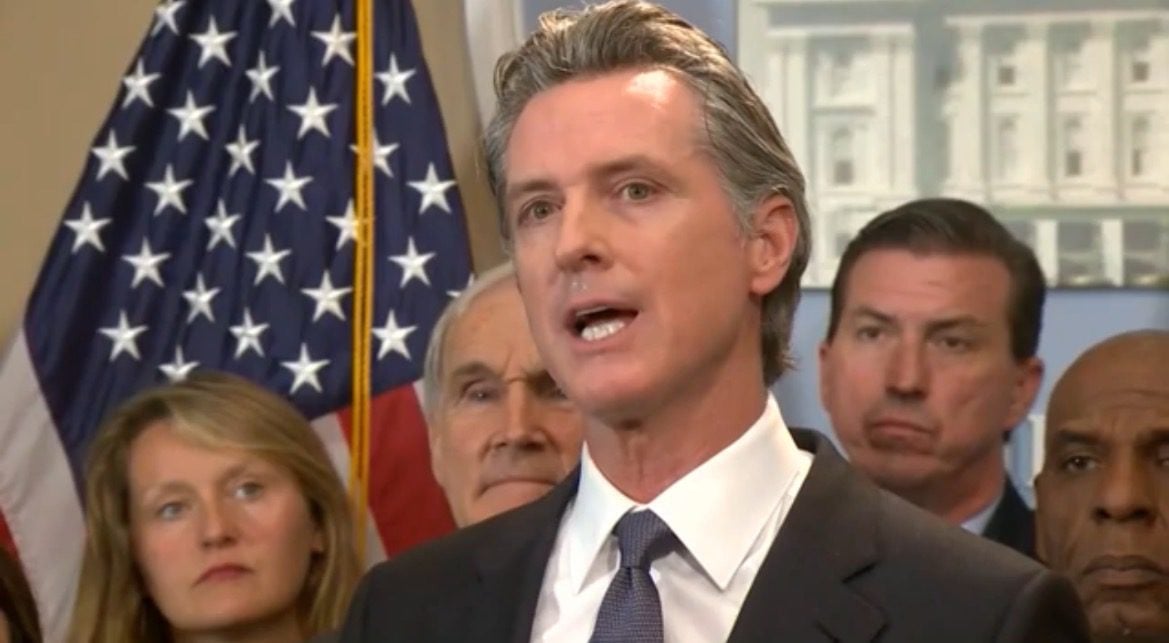 California Governor Gavin Newsom has finally been located. Turns out he was on a "personal trip" to Baja California while his constituents were freezing to death.
Here is San Francisco Chronicle reporter Emily Hoeven with the news.
NEW: @GavinNewsom has returned to the state, per his press office.

— Emily Hoeven (@emily_hoeven) March 5, 2023
We all remember the media uproar two years ago when Senator Ted Cruz (R-TX) briefly flew down to Cancun in the midst of a power outage in Texas even through he had no power to help. Don't expect the same reaction from the corporate press even though Newsom is literally the most powerful elected leader in the state.
As TGP's Cristina Laila previously reported, residents in San Bernardino, California are snowed-in and running out of supplies after the latest winter storm dumped several feet of snow in the region.
In addition to supply concerns, some roads remain closed.
ABC 7 reporter David Gonzales previously reported it is a 'life and death situation' in Crestline.
A life and death situation is unfolding in #SanBernardinoMountains after this week's powerful #winterstorm. This is #Crestline, #California on March 4. #abc7eyewitness #cawx #weather #californiablizzard pic.twitter.com/R3P68gQb7Z

— David González (@abc7DavidGonz) March 4, 2023
Jennifer Van Laar from Redstate.com report harrowing new information including a fatality.
BREAKING: According to sources involved with rescue efforts in snowed-in San Bernardino mountain communities, at least one person has been found dead in their home. More details later this afternoon at RedState.

— Jennifer Van Laar (@jenvanlaar) March 5, 2023
On Friday, San Bernardino Sheriff blocked 6 pvt helicopters from landing and threatened pilots with criminal citation even though he doesn't have authority over them. Now there is allegedly a CA Gov memo allowing pvt helicopters to land but sources say no one has actually seen it

— Jennifer Van Laar (@jenvanlaar) March 5, 2023
Private helicopter pilots are attempting to get helicopter pads installed so they can bring in more supplies. pic.twitter.com/yFxd5fLDbt

— Jennifer Van Laar (@jenvanlaar) March 5, 2023
Van Laar has a credible theory as to why Newsom does not care even as San Bernardino residents plead for help by writing "help us" in the snow.
Hey @GavinNewsom when your constituents have to resort to this to try to get food and life-saving supplies, you have utterly failed. Are you ignoring them b/c San Bernardino County voted to secede in November?
(photo credit @abc7) pic.twitter.com/dAdqXXdfoO

— Jennifer Van Laar (@jenvanlaar) March 5, 2023
This is almost certainly the reason the Biden regime was so slow to help East Palestine, Ohio residents after the toxic train derailment. As TGP previously reported, they apparently wanted to punish the voters for not supporting Biden.
The news only gets worse for Californians. Some residents, especially senior citizens, in Northern California's Mendocino County have been stuck in their homes for over 10 days. They remain without power and are running low on supplies.
Crazy stuff going on in NorCal due to the storms. Seniors stuck in their houses for 10+ days because they can't get through the snow levels in mountainous areas of #Mendocino County. No power or cell service still. #CAwx 1/3

— Sarah Stierch ?????? ? (@Sarah_Stierch) March 5, 2023
In Humboldt County, which is just north of California's state capital Sacramento, CAL FIRE, the US Coast Guard, and the local Sheriff's Department have coordinated  hay drops for cattle in rural areas since ranchers have not been able to get out to feed them.
In Humboldt Co, CAL FIRE, US Coast Guard and Sheriff's Dept have coordinated hay drops for cattle in rural areas unable to be fed by ranchers by ground due to road and weather conditions. First time they've had to drop hay since 1989. 6-8 ft of snow. Many not fed for 8 days. 2/3

— Sarah Stierch ?????? ? (@Sarah_Stierch) March 5, 2023
Please keep these people in your prayers.
Source material can be found at this site.