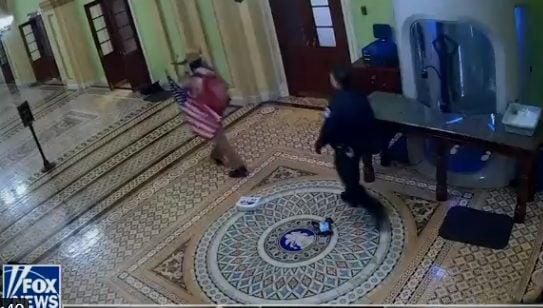 Tucker Carlson released video tape of Jacob Chansley "QAnon Shaman" getting escorted through the Capitol on Jan 6.  Peacefully!
Tucker Carlson released information that we have been fighting for since January 6, 2021.
With access to 44,000 hours of never before seen surveillance video of the Capitol, Tucker Carlson is blowing up the January 6th narrative on Primetime Television.

Free Jacob Chansley! pic.twitter.com/nSdPWKNOGa

— Alex Sheppard ?? (@NotAlexSheppard) March 7, 2023
Jacob Chansley was thrown in jail and is spending years in prison for this.  He was accused of some perverse reporting that he was committing sedition.
Jacob Chansley "QAnon Shaman" who was sentenced to 41 months seen on the Jan 6 tapes with at least 9 capitol police, acting as his tour guides#TuckerCarlson #Tucker pic.twitter.com/iILcMeuAb3

— Top Secret (@ICU1010) March 7, 2023
Americans are shocked and livid.
#BREAKING: #TuckerCarlson – #Police "acted as #tourguide" for "#QAnonShaman" on #Jan6th. #January6thFootage #Jan6thFootage #Tucker #WhatReallyHappened pic.twitter.com/esjjqIKn2G

— Sn00pster (@sn00pdad) March 7, 2023
Source material can be found at this site.