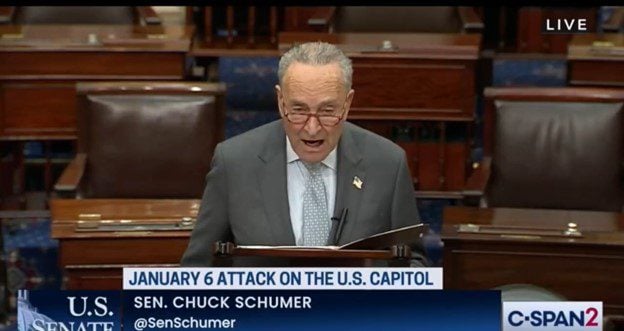 As reported earlier by Cullen Linbarger – Senate Majority Leader Chuck Schumer (D-NY) threw a huge temper tantrum on the Senate floor Tuesday.
Earlier this month Chuck Schumer demanded Rupert Murdoch silence Tucker Carlson and other Fox News hosts over the January 6 protests.
Schumer and House Minority Leader Hakeem Jeffries sent Rupert Murdoch a letter demanding he censor Fox News hosts.
Thankfully, Fox News did not listen because Tucker Carlson immediately exposed how many of the narratives propagated by the January 6 commission, Democrats, and their propaganda media, were vicious lies.
Among these lies were Brian Sicknick being murdered by protesters, (Tucker showed he was unharmed), Jacob Chansley aka "The Qanon Shaman" committing sedition (he marched peacefully throughout the Capitol), and Ray Epps being a patriotic whistleblower (he perjured himself before the committee.)
Facts do not matter to Schumer, however. He repeated many of these lies, angrily demanded Fox News censor Tucker again, and accused Speaker Kevin McCarthy of treason after giving Tucker the tapes.
Schumer made the remarks on the floor of the US Senate.  It was quite remarkable.  Democrats no longer fear being exposed as tyrannical, power-hungry elitists determined to obtain total control of the American public.
But Schumer was not done.  The Senate Leader later tweeted out demands on Tucker Carlson and FOX News Channel.
Look at the strawman he tosses out to open his tweet.  Who said January 6 was NOT violent?
To say the January 6th attack was not violent is a lie.

The lives of my staff, my colleagues, the police, maintenance staff, reporters, and more were put in danger.

Fox News must order Tucker Carlson to stop promoting the Big Lie and stop defending the insurrectionists.

— Chuck Schumer (@SenSchumer) March 7, 2023
Schumer whines that Tucker hates America for airing video of what really happened on January 6.
I don't think I've ever seen an anchor treat the American people and American democracy with such disdain as Tucker Carlson did last night.

And he'll come back tonight with another segment.

Rupert Murdoch and Fox News know it's a lie. They must order Tucker Carlson to stop.

— Chuck Schumer (@SenSchumer) March 7, 2023
And Chuck Schumer puts preconditions for appearing with Tucker Carlson.
What a coward.
I was invited on Tucker Carlson's show.

I will agree to go on after Tucker Carlson admits to his viewers live on air that he has been lying to them about the 2020 elections and about what happened on January 6th.

— Chuck Schumer (@SenSchumer) March 8, 2023
Schumer then got called out for his lies on Officer Sicknick, even this morning.
You completely lied on the Senate floor this morning about how Brian Sicknick died and then called for journalists to be censored for telling the truth. pic.twitter.com/58MR8S8xwW

— Greg Price (@greg_price11) March 8, 2023
This was brutal. Twitter was not taking his lies tonight–
As a U.S. Senator, you called for a journalist to be censored because he exposed your lies about Jan 6. It wasn't a deadly insurrection. Officer Sicknick wasn't murdered. Ray Epps lied under oath. No wonder 61% of Americans think Jan 6 was staged by feds. You should be ashamed.

— Liz Wheeler (@Liz_Wheeler) March 8, 2023
It's funny how Democrats are always called out when they don't have the mainstream media to hide behind.
THE ONLY PROBLEM YOU HAVE SENATOR SCHEMER?? @TuckerCarlson is telling the TRUTH and always has!!!

When this is over, America will be thanking @SpeakerMcCarthy brilliant journalist Tucker…#FreeJ6PoliticalPrisoners ?? #JusticeForAshli pic.twitter.com/GZ4v5UFidv

— Johnny J. Nalbandian ?? USA JOHNNY (@Johnny_Congress) March 8, 2023
Source material can be found at this site.