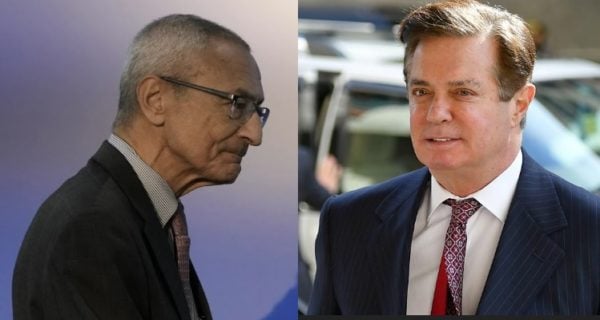 On Monday Paul Manafort agreed to pay the corrupt DOJ over $3 million to get them off his back.  Meanwhile, his cohort in Ukraine, John Podesta, continues to work diligently for the regime.  Podesta was placed in a position to award billions in bogus climate-related grants to organizations of his choosing.  This is the Biden/Obama world's two-tiered system of justice. 
Yesterday it was reported that Paul Manafort has agreed to pay the corrupt DOJ over $3 million to get them off his back.  This extortion was reported by NBC:
Paul Manafort, a chairman of Donald Trump's 2016 presidential campaign, agreed to pay $3.15 million to settle a civil case the Justice Department filed last year alleging "willful failure to timely report his financial interest in foreign bank accounts," according to court documents.

Court documents filed Feb. 22 in U.S. District Court for Southern Florida, where Manafort lives, detail the settlement. The Justice Department's lawsuit last year, which sought $2.9 million from Manafort at the time, accusing him of failing to report consulting income from Ukrainian sources that was deposited into accounts he is alleged to have directed to be opened in Cyprus, St. Vincent and the Grenadines, and the United Kingdom.

The civil lawsuit, filed in West Palm Beach, Florida, said Manafort earned income conducting consulting work in Ukraine from 2006 to 2014. It alleges that Manafort failed to report his interest in foreign accounts on his federal income tax returns or through a timely filed Report of Foreign Bank and Financial Accounts, known as FBAR, for 2013 and 2014.
Manafort was pardoned by President Trump after being indicted by this same corrupt DOJ and sitting in solitary confinement for nearly a year before and during his trial.  The DOJ went after Manafort for his actions in Ukraine when he worked with creepy John Podesta and his brother Tony at the time.
Podesta was Hillary Clinton's campaign manager in her failed campaign in 2016 while Manafort was candidate Trump's campaign manager for a brief time in 2016 as well.  Manafort's real crime was working for candidate Trump.
The creepy Podesta brothers were never charged by the DOJ despite working with Manafort in Ukraine.  But they were Democrats.
John Podesta was later placed over billions of dollars by the Biden gang and this is his reward for working with the Clintons and Obama.  But Podesta is left unscathed because he is a top Democrat.
We are losing the country folks.  This is not justice.
Corrupt John Podesta Awards $2 Billion Government Loan to Former Tesla Employee Which Will Compete with Elon Musk
Source material can be found at this site.