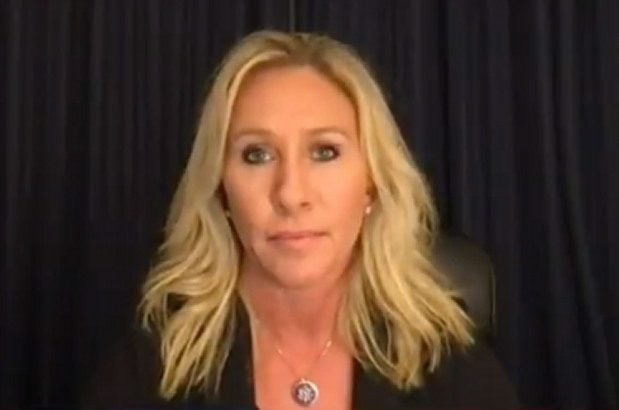 Twitter has suspended the account of Rep. Marjorie Taylor Greene after she posted information about an upcoming 'Trans Day of Vengeance.' She was not promoting the event, she was trying to inform the public.
In light of what has happened this week, this seems like something people would want to know about.
It's surprising that this happened in spite of Elon Musk's efforts to stop the social media service from silencing conservatives.
The Hill reports:
Twitter restricts Greene's congressional account over 'vengeance' post

Twitter on Tuesday restricted Rep. Marjorie Taylor Greene's (R-Ga.) congressional account for seven days after she repeatedly posted an image of a poster about a rally called "Trans Day of Vengeance."

Greene tweeted about the event after three children and three adults were killed in a shooting at a Christian school in Nashville. Police say that the suspect in that shooting, who was killed during the incident, identified as transgender.

Ella Irwin, Twitter's head of trust and safety, said in a separate tweet that the platform was automatically sweeping to remove images of the poster over worries it could incite violence.

"We do not support tweets that incite violence irrespective of who posts them. 'Vengeance' does not imply peaceful protest," Irwin said.

The poster highlights an event scheduled for Saturday, April 1, that appears to be organized by Our Rights DC. That group's Twitter account, which has a little more than a thousand followers and describes itself as an "autonomous community sustaining direct action to demand accountability for injustice," was locked on Tuesday.
Greene responded with her unlocked account:
Twitter's @ellagirwin claims no one was given a "strike" for warning the American people of political violence planned at the Supreme Court.

Yet my official CONGRESSIONAL account was banned for 7 days for exposing Antifa's plan for violence on the "Trans Day of Vengeance."… https://t.co/L6jVrR4RRC pic.twitter.com/UKbrVLgTgz

— Marjorie Taylor Greene ?? (@mtgreenee) March 28, 2023
Other people were banned for the same supposed offense.
Daily Wire Reporter Suspended From Twitter Over Story About Trans 'Day Of Vengeance' Scheduled For Same Week As Nashville Shooting https://t.co/aHpCiNOCmV pic.twitter.com/Duas12U1lt

— Daily Wire News (@DailyWireNews) March 28, 2023
Twitter Bans Federalist CEO Sean Davis For Factually Reporting On 'Trans Day Of Vengeance' Following Nashville Shooting @elonmusk @seanmdav pic.twitter.com/XKLHhJDFfX

— The Federalist (@FDRLST) March 29, 2023
What is going on at Twitter?
Source material can be found at this site.