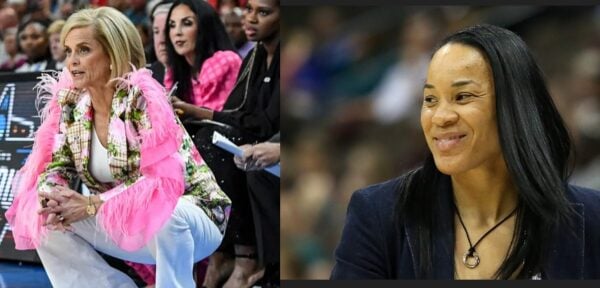 The final four in Women's basketball has not been a sport that many cared to watch, but this year it has jumped into the limelight due to two coach's responses to politics and Caitlan Clark from Iowa whose play is reminding people of Steph Curry and Larry Bird. 
Earlier this year, woman's basketball player Brittney Griner was arrested in Russia.  This was a political act that received a lot of attention.  It was reported at the time:
While Brittney Griner found herself sitting in a Russian jail cell waiting to find out if she would spend the rest of her life in prison over a trumped-up drug charge, many of her friends and associates reached out or publically shared support for her situation and aired a desire to get her back to the United States.

During Griner's incarceration, Mulkey, who is now the head coach at LSU, received harsh criticism when she refused to give any public support to Griner after she was arrested.
When Griner made it back to the States safely, coach Mulkey, who's famous for her fancy outfits on the court while coaching, was asked if she reached out to Griner.
"No. But I'm glad she's back," Mulkey said during a press conference. "I'm glad she's safe, she's sound. I think everybody is. But no, I have not."
Mulkey's LSU won their final four game last night and will face Caitlin Clark and Iowa on Sunday.
On the other side of the political spectrum was South Carolina's coach Dawn Staley.  When it was reported that a fan at a BYU volleyball match had yelled racial slurs at a Duke player Staley responded.
"As a head coach, my job is to do what's best for my players and staff," Staley said in a statement. "The incident at BYU has led me to reevaluate our home-and-home, and I don't feel that this is the right time for us to engage in this series."

Duke's Rachel Robinson claimed that a fan subjected her and her Black teammates to racial slurs "throughout the entirety of the match" against BYU. The allegation has since come under scrutiny.

BYU officials have said they were still investigating the incident, and BYU police Lt. George Besendorfer said last week an initial investigation of the footage from the crowd did not appear to show the person who was banned shouting anything while Richardson was serving.
Staley is one heck of a basketball coach but her top-rated team, which won the NCAA tourney last year lost their first game in a year last night to Iowa.
Iowa moves on to the championship game behind phenom Caitlin Clark who's been compared to Steph Curry.
Clark is often compared to NBA All-Star Steph Curry because of their shared, seemingly limitless range.
Curry's father, an NBA star himself sees the similarities between Clark and his son:
Steph Curry's dad Dell Curry, who played 16 years the league and is the Charlotte Hornets all-time leader in points and 3-point field goals made, told USA TODAY Sports he sees the similarities in his son and Clark, too.

"That freedom, it starts with trust — your coach trusting that you've put in the work and that for you, those are good shots," Dell Curry said. "I always say, we have a lot of shot-takers in basketball. We need more-shot makers. To make those shots, obviously not everyone has that fortitude. But in the way that Steph has changed what's a good shot in the NBA, she has absolutely done the same in the women's game."
Tomorrow Iowa plays LSA in the NCAA women's championship.
Trending: BREAKING: Pro-Trump Meme Maker Douglass Mackey, a.k.a. 'Ricky Vaughn,' Found GUILTY of Trolling Hillary Clinton During 2016 Election – Faces 10 Years in Prison
Source material can be found at this site.