100 Percent Fed Up reports – A flower shop in Nashville is now refusing to serve Republicans because of their stance on gun laws. In a statement explaining their stance, the owners blame the GOP for the recent shooting at a Christian school in the city that was perpetrated by a transgender terrorist.
Last week, FLWR Shop, a florist in Nashville, TN, received a request to provide floral design services for a large RNC fundraising event scheduled to take place in Nashville. Donald Trump and other GOP leaders will be in attendance.
The owners of FLWR, Alex Vaughn and Quinn Kiesow, "immediately declined" the opportunity because of their moral opposition to the Republican party.
Vaughn and Kiesow issued a statement on their Instagram addressing this issue and explaining their stance, calling on other small businesses in Nashville to "say no to taking money or jobs from the Republican party until they begin to make the changes to gun laws that most Americans are calling for."
In a letter to the individual requesting FLWR's services for the RNC event, the owners further expressed their opinion of the GOP, blaming them for the recent Nashville school shooting.
Although the shooter that took the lives of three children and three adults at a Christian elementary school was a left-wing transgender activist, FLWR somehow blames the GOP's stance on gun laws for the tragic loss of innocent lives.
"Our community just lost seven people, including three young children, to yet another school shooting," wrote the FLWR owners. "At this moment, I cannot ignore the work that the RNC has done to create this tragedy and so many others like it."
"The Republican party not only refuses to enact change, but many members of the party have worked to pass legislation that makes this problem worse, like the recent changes to gun laws here in Tennessee," they continued. "The Republican Party has wasted taxpayer money and precious legislative will on banning drag shows, rather than assault rifles that are being used to murder children in their classrooms."
"We will not be accepting any of your money," FLWR concluded. "The blood of the 3 beautiful babies we lost in Nashville is on that money. We cannot find any logic in a morality that refuses to try to prevent the murder of children just to ensure that people aren't inconvenienced when they want to obtain a gun."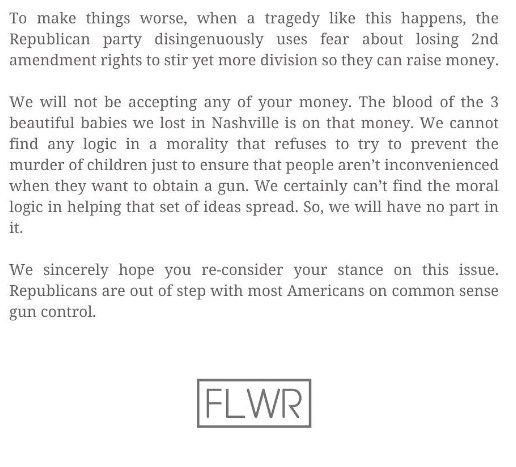 Somehow, the owners of FLWR seem to have forgotten who was responsible for bringing a gun to an elementary school and opening fire on innocent students and faculty members.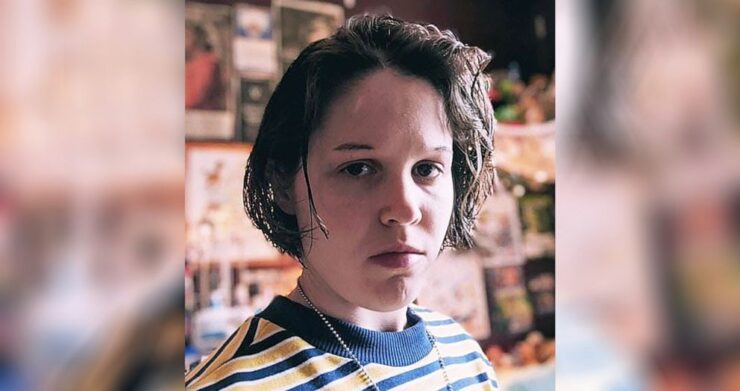 Source material can be found at this site.