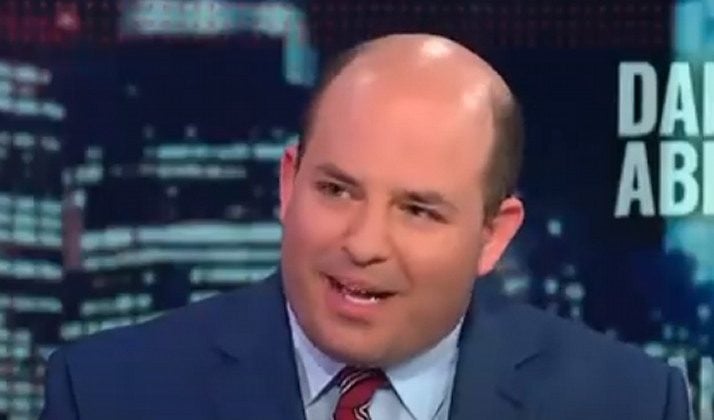 During an appearance on the Dan Abrams show this week, Brian Stelter claimed he has no idea why he got fired by CNN.
That's probably a total lie. Surely, Stelter had conversations with people at the network who told him why he was being fired.
What's more likely is that Stelter doesn't want to say it because then it becomes part of the public record.
Townhall reports:
Brian Stelter Does Not Know Why CNN Fired Him: 'We Were Doing Fantastic Journalism'

Former CNN host Brian Stelter revealed he does not know the reason why he was fired from CNN as their chief media correspondent and anchor of "Reliable Sources" by the new leadership.

Speaking on NewsNation with Dan Abrams, Stelter defended his tenure, which was constantly mocked for being disingenuous about liberal bias the mainstream media has and providing cover for news outlets that were not Fox News and Democrats.

"You recently left CNN…clear they kind of push you out," Abrams said.

"I've embraced the f word, Dan, fired!" Stelter said, laughing.

"Why do you think you got fired? Abrams asked.

"I don't know…I really, truly don't know," Stelter said. "I know I had a popular show by CNN standards and I know that it was pretty cheap to produce. But I also know every show gets canceled eventually."
See the clip below:
Brian Stelter says he has no idea why he was fired from CNN:

"I think we were doing fantastic journalism at CNN for the nine years that I was there." pic.twitter.com/5dtDmXkHo5

— Media Research Center (@theMRC) April 19, 2023
Here's a longer version:
Who does he think he's kidding?
He's in total denial — doesn't want to admit that he was way overboard on the Left in his coverage and opinions. He never just let the facts speak for themselves.

— Michael W. Chapman (@ChapmanCNSNews) April 19, 2023
"I'm not sure what the word Journalism means, but I'm pretty sure we were doing a fantastic job at it"

— Ben (@Bcampione88) April 19, 2023
Yes, Brian did a great job at CNN. Just ask him.
Source material can be found at this site.