The Mainstream Media (MSM) was overjoyed with the news that FOX News settled with  Dominion Voting Machines for $787 million dollars.
CNN was so happy they were giddy.  Former Politico journalist, Jake Tapper, smiled as he shared the results and almost laughed.
"I'm sorry. This is going to be difficult to say with a straight face."

Jake Tapper can't help but laugh at Fox News' statement after reaching a $787 million settlement with Dominion. pic.twitter.com/GpOQTGyMSx

— Justin Baragona (@justinbaragona) April 18, 2023
ABC was quick to share the news.  Dominion's CEO said that FOX admitted to telling lies about Dominion.
BREAKING: Dominion Voting Systems CEO John Poulos calls settlement with Fox News "historic," adding: "Fox has admitted to telling lies about Dominion that caused enormous damage to my company… nothing can ever make up for that." https://t.co/0hppoGCI1J pic.twitter.com/6ieXrHXEGL

— ABC News (@ABC) April 18, 2023
SKY News reported that the case had been dismissed and Twitter felt compelled to correct the report and state that the case was settled.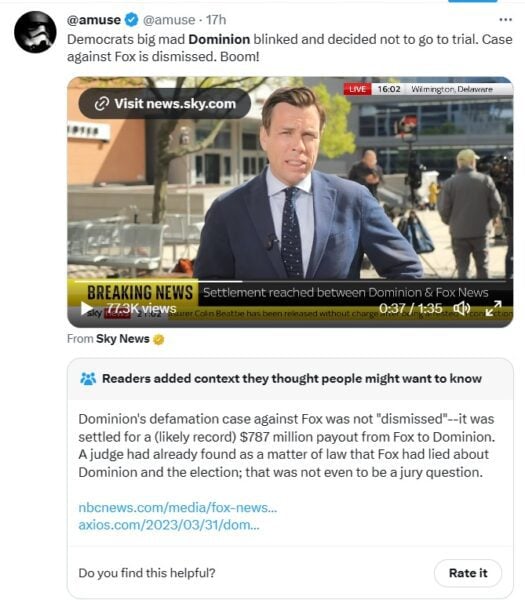 Here is the tweet:
Democrats big mad Dominion blinked and decided not to go to trial. Case against Fox is dismissed. Boom!
pic.twitter.com/snfZUDpBG7

— @amuse (@amuse) April 18, 2023
MSNBC equated the Dominion lawsuit announcement to the selection of a Pope at the Vatican:
It was that kind of day, everybody waiting for a Vatican like puff of smoke".
LIVE on MSNBC:

Fox News and Dominion Voting Systems announce settlement in historic defamation lawsuit. @nicolledwallace leads continuing coverage. https://t.co/RdYLvfuTRC pic.twitter.com/0500nGhfgU

— MSNBC (@MSNBC) April 18, 2023
FOX News rolled over.  How embarrassing.  By doing so they gave the MSM everything they ever wanted. Wow.
Source material can be found at this site.