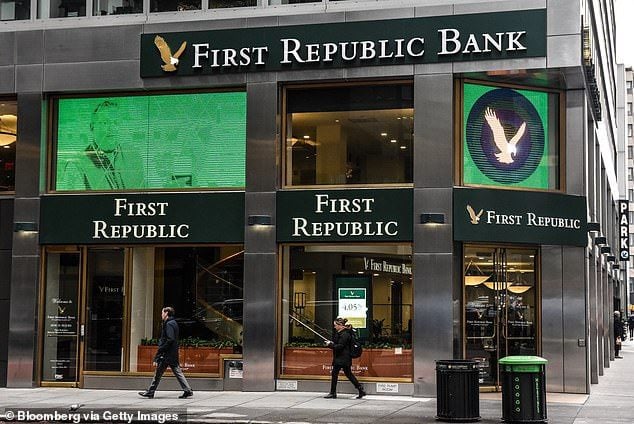 Trading of First Republic Bank stock halted for the second time on Wednesday after its share price plunged more than 50%.
Earlier this week First Republic Bank said customer deposits tumbled 40% in Q1 – worse than Wall Street expected.
Deposits fell to $104.5 billion in the first quarter but the bank says deposits have since stabilized.
The US government may seize First Republic Bank, according to Fox Business.
JUST IN: First Republic Bank $FRC expected to be seized by US government, Fox reports.

— Watcher.Guru (@WatcherGuru) April 25, 2023
More on this developing story from Yahoo Finance:
According to CNBC, First Republic Bank will cut its work force by 25% and reduce its office space.
Last month First Republic was downgraded to junk by SP.
"We believe the risk of deposit outflows is elevated at First Republic Bank despite the actions of federal banking regulators and the bank actively increasing its borrowing availability to mitigate risk associated with the bank failures over the last week," SP said in a statement.
"Still, if deposit outflows continue, we expect First Republic would need to rely on its more costly wholesale borrowings. This would encumber its balance sheet and hurt its modest profitability," said SP, according to Market Watch.
Top Executives at First Republic Bank sold $12 million in company stock before shares plummeted last month, according to the Wall Street Journal.
Customers were lined up at a First Republic Bank in Los Angeles last month to withdraw their money after Silicon Valley Bank failed.
WATCH:
I've never seen a bank run in Brentwood Los Angeles in over 40 years — this is at first republic bank branch. People standing in rain pic.twitter.com/k31PqqpyO3

— pjb.eth (@Dr_PhillipB) March 11, 2023
DEVELOPING…
Source material can be found at this site.