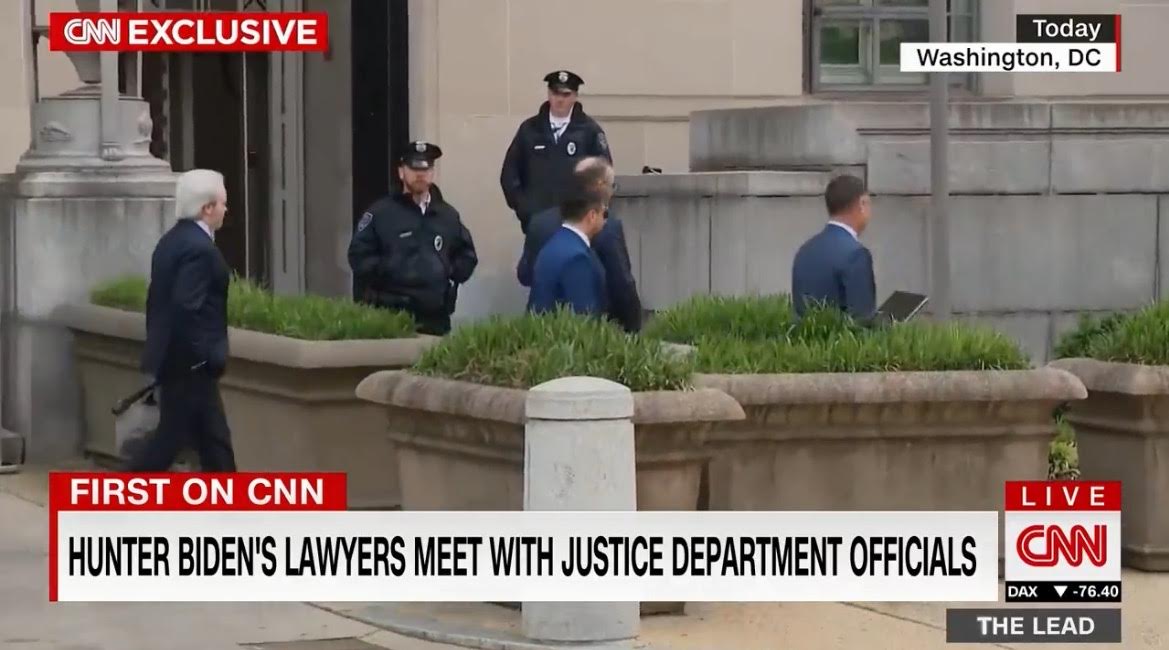 Hunter Biden's lawyers arrived at the Justice Department on Wednesday to discuss the criminal investigation into Joe Biden's son.
WATCH:
Hunter Biden's lawyers meet with Justice Department officials. @PaulaReidCNN reports. pic.twitter.com/IH9Y5a00iH

— The Lead CNN (@TheLeadCNN) April 26, 2023
According to reports, prosecutors are considering bringing misdemeanor and felony charges against Hunter Biden for tax crimes and false statements related to a gun purchase.
CNN reported:
Lawyers for Hunter Biden met with Justice Department officials on Wednesday to discuss the long-running criminal investigation into the president's son.

Hunter Biden's longtime attorney Chris Clark, along with several other attorneys, were spotted by CNN heading into Justice Department headquarters early Wednesday. When reached afterward, Clark declined to comment.

In attendance at the meeting were officials from the Justice Department's tax division and the Delaware US attorney's office, according to a person familiar with the meeting. The tax division is led by a career DOJ lawyer as there still isn't a Senate-confirmed appointee.

David Weiss, the Trump-appointed Delaware US Attorney, has been overseeing the investigation into Hunter Biden.

The Hunter Biden legal team had reached out to Justice officials in recent weeks, asking for an update on the case, according to one source familiar with the meeting.
The Feds are mishandling the criminal investigation into Hunter Biden, according to an IRS supervisor who is seeking whistleblower protection.
In 2020 Hunter Biden revealed that he is under investigation by the feds over his taxes.
"I learned yesterday for the first time that the U.S. Attorney's Office in Delaware advised my legal counsel, also yesterday, that they are investigating my tax affairs," Hunter Biden said in December 2020. "I take this matter very seriously but I am confident that a professional and objective review of these matters will demonstrate that I handled my affairs legally and appropriately, including with the benefit of professional tax advisors."
Hunter Biden is also under criminal investigation for making a false statement in connection with a gun purchase.
An IRS whistleblower says Hunter Biden is receiving "preferential treatment."
White House scandals spokesman Ian Sams issued a statement last Thursday denying Joe Biden is behind the political interference in the investigation into Hunter Biden.
"Since he took office and consistent with his campaign promise that he would restore the independence of the Justice Department when it comes to decision-making in criminal investigations, President Biden has made clear that this matter would be handled independently by the Justice Department, under the leadership of a U.S. Attorney appointed by former President Trump, free from any political interference by the White House. He has upheld that commitment." the White House statement read.
Source material can be found at this site.