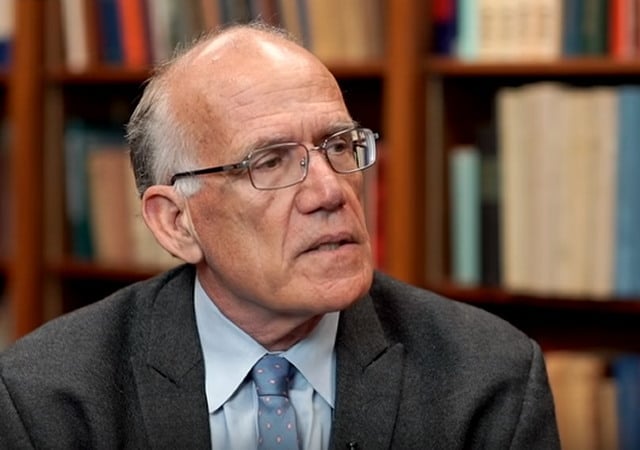 Conservative scholar and historian Victor Davis Hanson said during a recent interview that FOX News made a mnistake by parting ways with Tucker Carlson and that they would not be able to replace him.
Hanson is a wise man and his point here is well made. FOX News is already seeing its ratings collapse as a result of the decision.
And who do they think is going to take Carlson's place at 8 PM? There is no one currently on the air who could fill Tucker's shoes.
Newsmax reports:
Victor Davis Hanson: Fox News Can't Replace Carlson

Fox News is miscalculating in its "emotional" firing of Tucker Carlson, severing ties with an irreplaceable force in new-age populist conservativism, according to Victor Davis Hanson, a fellow at the Hoover Institute.

Not only is the network disenchanting its audience, it gave the leftist cancel culture activists a victory, and created a 3.5-million viewer vacuum that other conservative networks like Newsmax are going to fill, Hanson told The Telegraph's "Off the Script" podcast this weekend.

"The Murdochs are not quite understanding that when you take away somebody who had a greater potential elsewhere and was a precious asset that anchored your whole evening lineup and you fired him in a fit of pique, or anger without thinking it through, you've got to be very careful, because you're not going to be able to replace a guy like that," Hanson said, warning the modern media is "fragmented" and allows many big names like Joe Rogan, Bill O'Reilly, and Megyn Kelly make their own way without corporate media.

Hanson added "a lot of people are very angry about it" and tuning out of Fox News as it turns left under the growing influence of Lachlan Murdoch.

"Tucker was able to stop the hemorrhaging from One America News or from Newsmax or all of the right rivals," Hanson said, hailing Carlson as "responsible and learned but still can appeal on the same topics" that appeal to the anti-mainstream media crowd.

"So, I don't know where they get that person, and I think that in the immediate week, it shows."
See the video below:
Victor Davis Hanson views on Fox and Tucker Carlson pic.twitter.com/P8bufqshJ6

— Excuse me sir, (@Thomasmark0) April 30, 2023
As usual, Hanson is right.
This decision by FOX News was completely baffling. Tucker is a unique voice and they will not find anyone who can match him.
Source material can be found at this site.