"Boycott Target" by Forgiato Blow and Jimmy Levy, featuring Nick Nittoli and Stoney Dudebro, has reached number two on iTunes Rap and Hip Hop Top 100 chart.
The hit song urges listeners to continue to boycott the retail giant, which has already lost $10 billion in ten days amid outrage over Pride-themed clothing items for children.
"There's a cleanup on every aisle/Target is targetin' your kids," the song begins. "This agenda's gotta stop, they know we gonna win."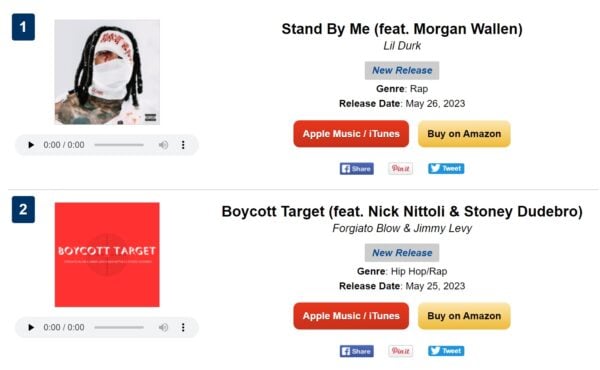 The pro-Trump rap group also filmed a video for the song inside a Target store.
Why Is #Target Targeting Our Kids?

Retweet If You Support #BoycottTarget pic.twitter.com/z9cEkLoShi

— Trumps Nephew (@ForgiatoBlow47) May 25, 2023
"Target, Target, yeah they targetin'/Target, Target, yeah they target kids," the catchy song goes.
The video posted to Twitter has been viewed nearly four million times in three days.
The New York Post reports, "A week ago Wednesday, Target enjoyed its stock value at $160.96 a share, but following the calls to boycott the Minneapolis-based retailer over its 'PRIDE' collection, the value plummeted and closed Friday at $138.93 a share."
"The more than 22% drop in value for the blue chip stock roughly translates to a $10.1 billion loss in valuation to just $64.2 billion for Target, which has nearly 2,000 stores nationwide," the report continues. "The plummet stands as the retailer's lowest stock price in nearly three years. The last time the company saw a drop nearly this big came in 2022 after the stocks equalized following an unprecedented surge during the COVID pandemic."
Target recently pulled items from a company called Abprallen, which included "We Belong Everywhere" messenger bags, "Too Queer For Here" messenger bags, and "Cure Transphobia, Not Trans People" sweatshirts. The company is known to make pro-drug and pro-satan merchandise.
"All items were designed for all bodies, regardless of gender identity and presentation," Target said in the description for the items. "We added design features to help make the fit customizable for you. Our hope is for all guests to find clothing that makes them feel comfortable and affirmed in their identity. We understand that fit is incredibly important and will continue to evolve and improve on fit needs for the LGBTQIA+ Community."
Source material can be found at this site.