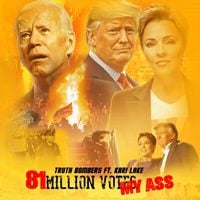 Kari Lake's new song with The Truth Bombers is already a hit, making it onto two Billboard music charts within one week of its release, and a new music video was just released.
Download and share the song at this link!
— Kari Lake (@KariLake) June 10, 2023
Lake's first music single with Truth Bombers and Mailman Media, "81 Million Votes My Ass," was released at midnight on Friday, June 2.
This is the same production team that brought us "Justice for All," featuring Donald Trump and the J6 Choir. As The Gateway Pundit reported, the hit single reached number one on the Billboard Charts.
The Gateway Pundit gave an update days after the song's release when Mailman Media Head of Recorded Music Operations LJ Fino told us, "It's certainly on pace to land a spot on multiple Billboard Charts," and "the record has not left the iTunes all genres chart after breaking in on release day, June 2." Fino told us the song would be on the Billboard charts, and "the only remaining questions pertaining to that are, 'how high?' And 'how many different charts?'"
On Saturday, Fino told The Gateway Pundit that the song is "confirmed to hit both the rock digital song sales and the alternative rock digital song sales." It is possible that the song will end up, surprisingly, on the rap song chart as well!
This proves that real Americans are sick of the woke bullsh*t that is clogging the leftwing media industry!
The charts will update on Tuesday.
If you thought the song was great, the music video is even better!
Even if you're not a fan of the song, the music video is an instant classic!
Showcased is Kari Lake speaking to massive crowds in Arizona and across the country with enormous applause as well as the destruction of our country by Joe Biden's radical regime. The video continues to show Biden confused and wandering around stages, falling up the stairs, falling off a bike, eating ice cream, kissing children, dishonoring veterans, Hunter Biden using crack and prostitutes, Kamala cackling, Hillary Clinton grinding on a black woman, and Hillary's "suicide" victims. The epic music video also features Jill Biden, Michelle Obama, Bernie Sanders, Liz Cheney, Chuck Schumer, "female" Bud Light influencer Dyllan Mulvainey, and the 2000 Mules who helped Biden steal the 2020 election.
The video concludes with rockstar Gene Simmons telling Piers Morgan that President Trump is going to win in 2024. "Somebody is going to run a 30-second sizzle reel showing Biden falling down," says Jean. The music video is that sizzle reel! 
Nobody believes that Joe Biden, a hollow, braindead shell, actually won 81 million votes in the stolen 2020 election.
Nobody believes that Katie Hobbs won the election for Arizona Governor either. As The Gateway Pundit reported, Lake is still fighting her lawsuit against the rigged election in Maricopa County, where 59% of machines failed on Election Day, targeting Republicans. Lake's attorneys have filed a Notice of Appeal against Maricopa County Superior Court Judge Peter Thompson's recent rulings, dismissing her lawsuit and new evidence of rigged voting machines before the recent trial. They plan to take their challenge all the way to the United States Supreme Court.
Kari Lake tweeted the music video and the news that the song will be on two music charts and may make its way onto a third.
Lake: Just got word our single, #81MillionVotesMyAss made it onto TWO Billboard charts and might make a third! Keep streaming and downloading
Just got word our single, #81MillionVotesMyAss made it onto TWO Billboard charts and might make a third!

Keep streaming and downloading??https://t.co/SkdM5sQPHA

— Kari Lake (@KariLake) June 10, 2023
Watch Kari Lake's first music video below:
Source material can be found at this site.