100 Percent Fed Up reports – To date, the shooter's manifesto has not been released. The key to the reason for the mass murder of nine innocent people may never be known to the public, as it may cause the public to look at transgenderism as a mental illness instead of perfectly normal mainstream behavior.
Only last week, we reported about a "trans" man pretending to be a woman who violently stabbed his own father to death, while the media completely ignored the story, and those who reported about the tragic murder refused to identify the accused killer as a "trans" person.
From our report:
34-year-old trans man Michael (Norah) Horwitz has been charged with the violent stabbing death of his father, Dr. Abbey Horwitz, a dentist in Virginia Beach, VA.

With the exception of 100 Percent Fed Up and a few other truth-telling publications, there has been very little coverage of this unimaginable violent crime.
The transitioning biological male's 68-year-old father, who he allegedly stabbed to death, was found by police in his home, where he suffered multiple stab wounds. He was pronounced dead by EMS at 9:13 am. The stabbing reportedly began just before 9 am on Saturday morning.
The accused murderer is reportedly on suicide watch in the prison where he is currently being held in the men's section of the Virginia Beach Jail on second-degree murder charges.
The accused murderer was arraigned via Zoom this morning.
Michael showed his support for Black Lives Matter in his Facebook profile.
The accused murderer also appeared to be an artist, sharing many of his drawings, including this one, showing his support for Black trans people.
The lawsuit, which was filed on May 25 by the victim's mother Theresa Gooden, states that the attack occurred at Edmond Memorial High School on October 26, 2022. It alleges that the transgender student had "made previous threats of violence" against the victim and had previously been searched for weapons by police following these threats.
In the police report filed after the bathroom assault, the transgender student is referred to as student "A" and the victim is referred to as "V."
According to the report, student "A" approached "V" in the girls' bathroom to ask a question. "V" did not want to speak to "A," who then grew angry and asked if she "wanted to fight," then proceeded to punch her in the face. The attacker, a biological man, then carried on hitting and punching the victim who was unable to fight back due to the differences in strength.
One friend of the victims reportedly tried to step in and help but was hit twice in the face.
Per the police report, the victim sustained injuries to her "eye, face, and head with a possible concussion."
The Superintendent of Edmond Public Schools, Angela Grunewald, gave a statement about the incident shortly after it occurred, suggesting that the school did not even know that the assailant had been born as a male.
"You may ask yourself how can that happen?" said Grunewald. "It's hard to explain, but if a parent comes in and enrolls their child as a certain gender, and when you look at that child by all social norms they look and present themselves as that gender, it's not something you would question."
The trans student had reportedly been enrolled as a woman without a birth certificate, which is not a requirement to begin high school.
However, the lawsuit alleges that Edmond Memorial continued to allow the trans student to use the women's restroom even after they learned of their true gender.
On March 29, 100 Percent Fed Up wrote about a planned "Trans Day of Vengeance" in Washington, D.C.
The mainstream media yawned.
Trans Activists Will Move Forward With "Trans Day of Vengeance" In D.C, Lead Organizer Is Former Aid To Dem Lawmakers—Twitter Account Threatens: "Kill Christ*cks"—"Crucify Filthy Christ*cks" and "Pray for mercy—because we won't show any"

Trending: FOX News Sends Tucker Carlson Cease and Desist Letter as His Twitter Videos Crash 100 Million Views – His Attorney Responds
On May 20, we reported about yet another violent attack that took place at a Capitol building by far-left activists protesting legislation against "gender-affirming care" for minors.
After a spate of violent outbursts at state capitols across the country by left-wing activists who were protesting against bills that restrict abortion and so-called 'gender-affirming care,' multiple arrests were made at the Nebraska Capitol on Friday.
At least six were arrested as protesters threw bloody tampons onto the House floor to protest the abortion bill and stopped debate, leading to charges of obstructing a government operation and disturbing the peace.
Perhaps most shockingly, one 33-year-old woman was arrested after allegedly punching a police officer in the chest as multiple people were having a verbal altercation with police.
Republican Gov. Jim Pillen said that he plans to sign both bills that restrict abortion and 'gender-affirming care.'
Police have reportedly been clashing with protesters all week as they have used unruly and unlawful tactics to attempt to pressure legislators into voting against the legislation.
The woman who exposed Jeffrey Marsh for child grooming is now being doxed and her children are being threatened by trans activists. pic.twitter.com/ycidrpRdhL

— Catch Up (@CatchUpFeed) March 12, 2023
Now, the Daily Mail is reporting that UN investigator Reem Alsalem told them 'screaming trans activists' were a worrying and 'increasing trend' that must be tackled.
The portmanteau of 'trans' and 'ANTIFA' is exactly what you'd expect — far-left transgender activists willing to intimidate, harass, and even use violence to advance their radical new ideas about gender.
Much like ANTIFA, they're not a formal group of card-carrying members, with the term 'Trantifa' coined on social media to highlight the strong transgender presence within the anarchist outfit.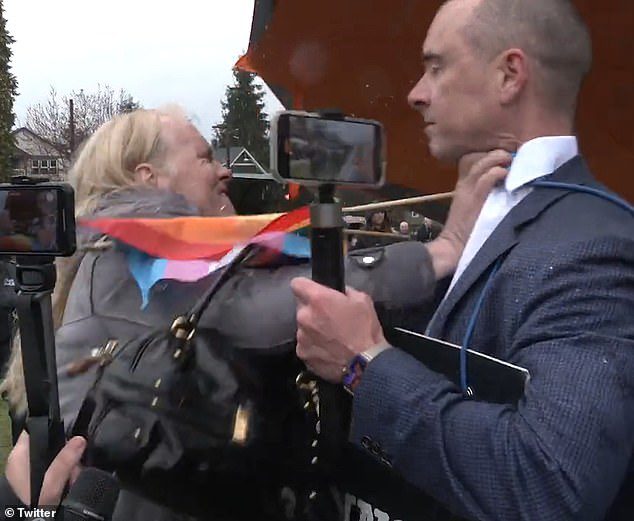 Julio Rosas, an author who recently testified to House lawmakers about leftist extremism, cites a series of trans-extremist incidents, including trans shooter Audrey Hale's bloody rampage in a Christian elementary school in Nashville.
"Trans activists gravitate towards these very far-left groups because they share their anarcho-communist type ideology," Rosas said.
"They view the US as systemically racist, that it's subjugated queer people, and that states passing laws against child mutilations is part of a trans genocide. And they're fighting back."
He described a radicalized group of trans activists concentrated on the East and West coasts who coordinate via messaging apps to stage rallies, confront rivals and push their ideas into the mainstream.
The FBI declined to comment on whether it was monitoring violent trans activism, but Rosas, Alsalem and some Republican politicians refer to ever-more incidents that make headlines.
Instead of addressing the threat Republicans and the UN investigator are warning about, the Biden regime and the dirty AG Merrick Garland will likely continue their focus on the Catholic church or Christians praying outside of Planned Parenthood…
Source material can be found at this site.