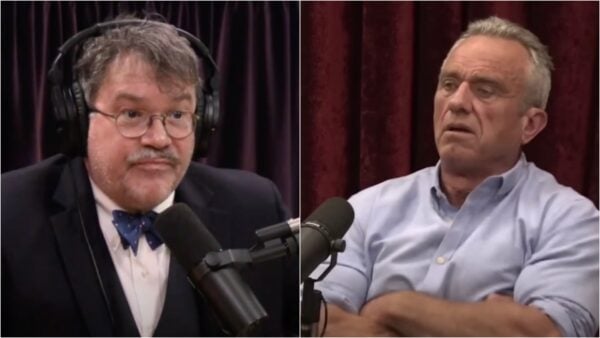 The Gateway Pundit reported that popular podcaster Joe Rogan challenged vaccine 'expert' Peter Hotez to have a debate with Democratic presidential candidate Robert F. Kennedy Jr. on his podcast.
Rogan, known for his open discussions on various topics, including vaccines, pledged to donate $100,000 to the charity of Hotez's choice if he agreed to engage in a discussion with RFK Jr.
The offer arose after Hotez shared a Vice article on Twitter, titled "Spotify Has Stopped Even Sort of Trying to Stem Joe Rogan's Vaccine Misinformation." The article targeted Rogan for inviting RFK Jr. onto his podcast to discuss the potential adverse effects of vaccines.
Responding to Hotez's tweet, Rogan questioned the labeling of RFK Jr.'s statements as "misinformation" and presented the $100,000 challenge. He invited Hotez to engage in a no-time-limit debate on his show, providing an opportunity for an informed and respectful discussion.
RFK Jr. wasted no time in accepting the challenge, stating, "Peter. Let's finally have the respectful, congenial, informative debate that the American people deserve."
Horitz, however, didn't accept the offer but instead wanted to appear on Rogan's show without having to debate RFK Jr.
I'm happy to come on and have a meaningful discussion. I respect you and your show and I don't want an adversarial relationship. I think we can make some progress.

— Prof Peter Hotez MD PhD (@PeterHotez) June 18, 2023
The debate pot for Peter Hotez to go on the Joe Rogan Experience has increased to over $1.5 million, and he may choose to go to the charity of his choice. This doesn't include other pledges.
After Roe Rogan challenged Dr. Hotez to come on and debate Robert Kennedy, Jr. on the legitimacy of the vaccine Elon Musk jumped in the conversation and suggested that Peter Hotez may not want to debate because he "hates charity."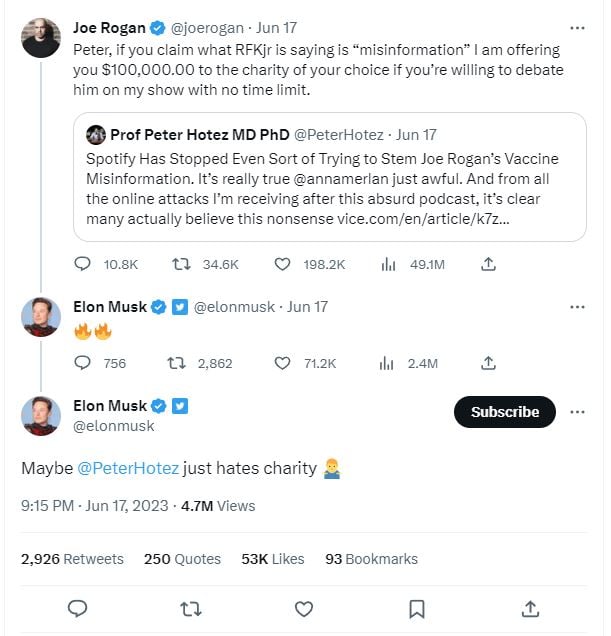 Professor Hotez fired back at Elon Musk and asked for money.
And now Professor Hotez is calling Robert Kennedy is a science denier.
This guy is so weak.
This dude @PeterHotez (never heard of him) tried to play Digital Hall Monitor by complaining that Spotify isn't doing enough to censor @JoeRogan for having @RobertKennedyJr on his show and accused him of "Misinformation" and was offered what is now $250k+ to charities to debate… pic.twitter.com/ypru2FJ8wv

— ALX ?? (@alx) June 18, 2023
So here we are.
Quick summary:@PeterHotez: "Wow, RFK Jr. and Rogan were spreading dangerous misinformed."@joerogan: "Okay, come show us what we have wrong."

Hotez: "No."

Joe: "Why not?"@elonmusk: "He knows he's wrong."

Hotez: "I'm an expert"

Joe: "Okay, come share your expertise"…

— Chris Hardman. Sauna King.???? (@chhardman) June 18, 2023
Source material can be found at this site.