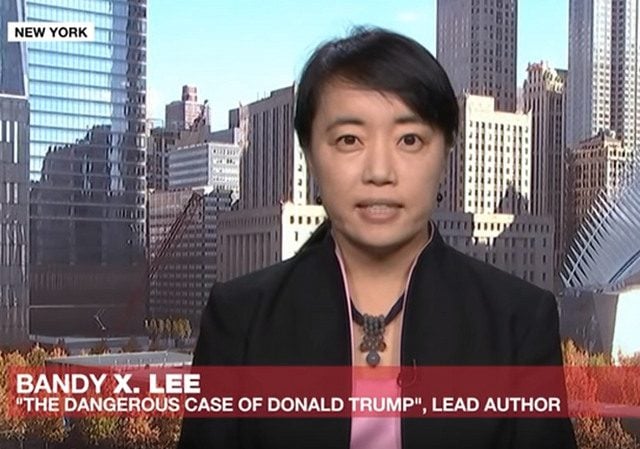 Do you remember Bandy Lee? She is the psychiatrist, formerly of Yale, who was repeatedly rolled out by Democrats and the media to claim that Trump and his supporters are dangerous.
It turns out that diagnosing people from afar is a big no-no in psychiatry. Yale put up with her for a while, but when she then decided to go after Alan Dershowitz, who threatened serious legal action, Yale kicked her to the curb.
She has since been trying to sue Yale and get her position back, but things aren't working out as planned. She just lost her second lawsuit against the university.
The College Fix reports:
Psychiatrist who called Trump supporters mentally ill loses in court against Yale

Former Yale University volunteer and researcher Bandy Lee has lost yet another lawsuit against the school in relation to the non-renewal of her agreement with her.

The 2nd U.S. Circuit Court of Appeals upheld a prior ruling that found Yale acted lawfully when it decided not to renew an agreement with Lee, who had an unpaid role at the Ivy League university.

Lee (pictured) has not "adequately alleged a promise that Yale would not decline to renew her appointment on account of her public statements," the three-judge panel ruled. The decision went on to review Lee's claims and explain why they were being rejected.

"We have considered Lee's remaining arguments and found them to be without merit," the judges ruled in conclusion, upholding a district judge's decision.

Lee's unpaid opportunity at Yale was not renewed after she made diagnoses of President Donald Trump, his supporters and Harvard Law School's Alan Dershowitz. She said supporters of Trump suffered from a "spread of 'shared psychosis,'" as previously reported by The College Fix.
Ms. Lee is living proof that Trump Derangement Syndrome is real.
She may want to seek the counsel of some of her former colleagues.

Dear Reader – The enemies of freedom are choking off the Gateway Pundit from the resources we need to bring you the truth. Since many asked for it, we now have a way for you to support The Gateway Pundit directly – and get ad-reduced access. Plus, there are goodies like a special Gateway Pundit coffee mug for supporters at a higher level. You can see all the options by clicking here – thank you for your support!
Source material can be found at this site.