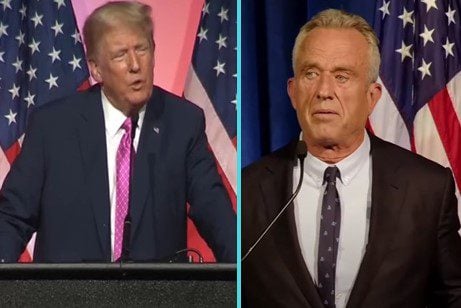 Newsmax anchor Eric Bolling interviewed President Trump recently and talked on several key topics which included what the 45th president thinks about Robert F. Kennedy Jr. challenging Biden for the Democratic presidential nomination.
The topic got brought up when Bolling asked Trump if he thinks he will face Joe Biden in the 2024 election to which Trump responded he believes Biden will have a hard time even making it to the starting gate.
Trump then switched gears and stated, "I will say, RFK Jr. who I have known not very well but I've known for a while, I respect him."
He continued "A lot of people respect him, he has a lot of important points to be made."
Bolling then asked Trump if Biden and RFK Jr should debate.
Trump quickly replied "I don't think that they'll allow him (Biden) to debate anybody. You could put a child and I don't think they'll allow him to debate."
WATCH:
Trump on RFK Jr.: "I respect him — a lot of people respect him."

"He's got some very important points to be made." https://t.co/9pUrx7a6Jt @ericbolling pic.twitter.com/Feqod4O1BN

— NEWSMAX (@NEWSMAX) June 27, 2023
Trump is right, there's a slim chance the Democratic Party will allow Biden to debate RFK Jr. on stage.
The Gateway Pundit previously reported the National Democratic Party has pledged to throw its support behind Biden for re-election and will not host any Democratic primary debates.
Many Democrats however have not endorsed Biden for re-election and are calling for Biden to debate both Robert F. Kennedy Jr. and author Marianne Williamson.
READ:
After Disastrous Debates in 2020, Democrats Have Decided to Not Hold Presidential Debates in 2024
Source material can be found at this site.