In an appearance on WABC-AM radio Wednesday with co-hosts John Catsimatidis and Rita Cosby, House Oversight and Accountability Committee Chairman James Comer (R-KY) said that his committee's investigation showed Joe Biden had made six policy decisions as a result of foreign bribery payments involving business deals arranged by son Hunter Biden. Comer said four of those decisions were made when Biden was president and that he cannot find a reason for the decisions except for bribery. Comer called the Biden family foreign business dealings "organized crime" and the Bidens themselves an "organized family crime unit." Comer said the total amount of payments to Biden related firms could reach $40 million with the Bidens' take at least $17 million.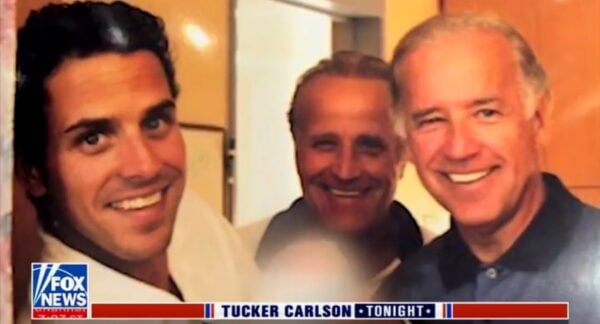 Hunter, Jim and Joe Biden, an "organized family crime unit, essentially, and the business model was to profit off of Joe Biden's influence as vice president and future influence as president of the United States," Rep. James Comer on Cats and Cosby.
Comer said the FBI does not have the Burisma Biden bribe tapes, but says the Ukrainian oligarch who allegedly made the tapes of Joe and Hunter Biden reportedly has copies, as does his daughter.
Excerpt from the New York Post report on the Comer interview:
Members of President Biden's family may have accepted in excess of $40 million from foreign nationals in exchange for favorable policy decisions, House Oversight Committee Chairman James Comer suggested Wednesday. The Kentucky Republican said that his panel has identified "six specific policy decisions" where Biden, 80, took actions that indicate he may have been "compromised," during an appearance on John Catsimatidis' "Cats Cosby Show" on WABC 770 Wednesday.

Comer noted that of the six policy decisions, four of them "were made while Joe Biden was president early on — [where] we cannot come to any other conclusion as to why these decisions were made, other than the fact that this president is compromised."

"This was organized crime. There's no other way to define it," Comer alleged. The Oversight Committee chairman explained that as recently as "in the last five days" his panel has obtained banking statements and suspicious activity reports that show "more bank accounts, more shell companies and more Bidens" being involved in the family's overseas influence peddling scheme.

…Comer told Catsimatidis that he's "confident" his investigation will prove the Biden family raked in "at least $17 million" from overseas, but that the "transactions could exceed $40 million-plus."
Comer said the Bidens helped communist Chinese firms "gain entry" into key sectors of the U.S. economy in exchange for payments.
Audio of the Comer interview:
Later on Wednesday Comer appeared on Hannity on the Fox News Channel:
Secretary Yellen must hand over all Suspicious Activity Reports related to Burisma the Biden Bribery Record.

We have no confidence that the FBI did anything to verify allegations that then-VP Biden solicited received a bribe.
@GOPoversight will provide accountability. pic.twitter.com/cyGop8skYT

— Rep. James Comer (@RepJamesComer) June 29, 2023
Speaker of the House Kevin McCarthy (R-CA) also appeared on Hannity where he endorsed the Biden investigations by the chairmen of the Judiciary, Ways and Means and Oversight committees.
Someone is lying. If we find it is Biden's Attorney General, Merrick Garland, we will start an impeachment inquiry.

These chairs and committees will get to the full truth:
? @Jim_Jordan of @JudiciaryGOP
? @RepJamesComer of @GOPoversight
? @RepJasonSmith of @WaysandMeansGOP pic.twitter.com/A5Y5FDTUcD

— Kevin McCarthy (@SpeakerMcCarthy) June 29, 2023
Source material can be found at this site.