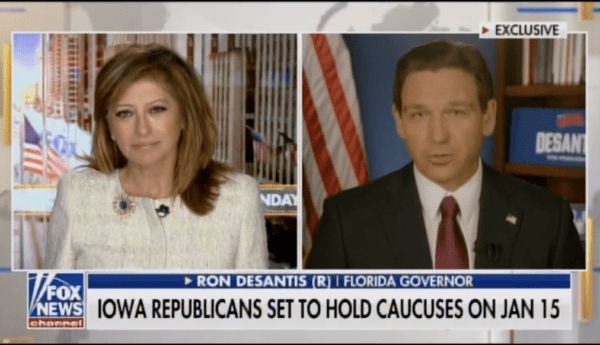 Florida's Governor, Ron DeSantis, accused the Trump administration agencies of colluding with Big Tech companies. DeSantis said these agencies worked together to suppress a story involving Hunter Biden's laptop during the 2020 election.
In a recent interview on Fox News "Sunday Morning Futures with Maria Bartiromo," DeSantis expressed his concerns about what he believes to be a significant issue from the 2020 election.
According to DeSantis, the Trump administration's agencies were complicit in the suppression of a story related to information found on Hunter Biden's laptop.
"I look back at the Hunter Biden censorship, which was a huge, huge deal to happen in the 2020 election, and yet those were Donald Trump's own agencies that were colluding with Big Tech. I would never allow that to happen. I would fire those people immediately," said DeSantis.
One user responded to DeSantis' statement, "Trump's case has always been that career bureaucrats, the intelligence community apparatus, and mainstream media colluded to sabotage his presidency and re-election. I don't think this attack lands the way DeSantis thought it would and seems desperate."
According to trial lawyer Robert Barnes, the actual court order specifically determined that the Trump administration was purposely kept in the dark and unaware of the Big Tech censorship by the FBI and others.
"The actual court order explicitly found that Trump administration was deliberately kept in the dark unaware of the Big Tech censorship by the FBI, etc," Barnes wrote.
DeSantis's statements come as he trails former President Donald Trump in primary polls for the 2024 presidential race.
Maria cornered Governor DeSantis on his stalled out campaign.
"I'm wondering what's going on with your campaign? There was a lot of optimism about you running for president earlier in the year, but here's this weekend's headline from the Politico playbook, "FAILURE TO LAUNCH — Florida Gov. RON DeSANTIS' campaign to topple DONALD TRUMP has stalled." We are way behind, says a top DeSantis PAC official, sounding the alarm. What happened?" asked Maria Bartiromo.
"Maria, these are narratives. The media does not want me to be the nominee. I think that's very, very clear. Why? Because they know I'll beat Biden. But even more importantly, they know I will actually deliver on all these things," DeSantis said.
Source material can be found at this site.