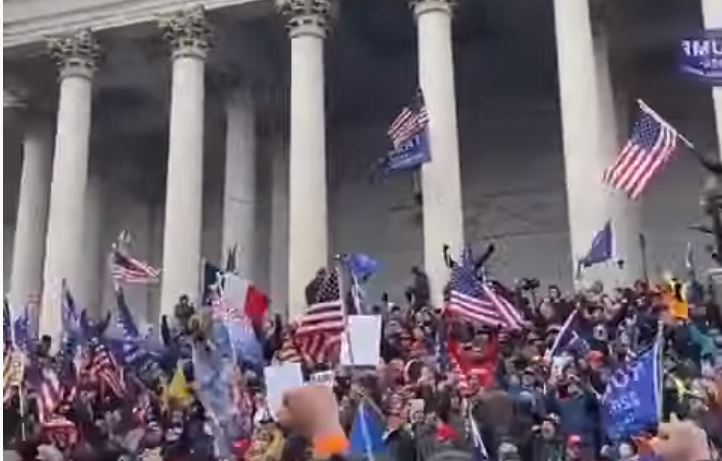 By CondemnedUSA
While the government continues to deny any wrongdoing in the "Fedsurrection" of January 6th, a new legal filing from CondemnedUSA Founder Treniss Evans details allegations of a shocking level of FBI intimidation and illegal attempts to coerce Mr. Evans into working as an asset for the oft-maligned agency.
Nearly a year after his sentence for "demonstrating peacefully, in a restricted area on January 6th" was finalized, Treniss Evans has no intention of letting repeated DOJ abuses of power go unnoticed.
On Friday morning, Mr. Evans provided notice to the D.C. Federal Court that sentenced him.
In a 25-page filing, Evans describes the "ongoing predatory behavior of the United States Government" and explains how previous attempts to notify District Judge Dabney Friedrich were stifled.
Additionally, Evans says the Department of Justice and United States Attorney's Office did everything in their power to suppress information that showed how Evans worked with U.S. Marshalls designing his own sting approved by the agency— leading to the apprehension of an "escaped fugitive involved in human trafficking and injury to a child who escaped from the bureau of prisons." Child human trafficking is a horrible crime and Evans should have been hailed for his selflessness and efforts to stop other women and children from the atrocities of trafficking. Why did the government keep this heroism from the public and seal these records refusing to open them at Mr. Evans request?
Perhaps more disturbing is Mr. Evans' information that before January 6th, Dale Javino (a person Evans once thought of as a "real and present danger" to the public) repeatedly encouraged Evans to "engage in driving munitions across the country to New York and engage in additional actions at a Capitol building in Michigan."
Evans explained his opinion that Javino is more than likely "an operative or confidential source" — working at the government's behest to ensnare Mr. Evans in a DOJ entrapment scheme.
As noted in the filing, Judge Friedrich was already aware of this, but the government kept the information sealed and otherwise hidden from the public. Once again Evans a well-known January 6th advocate is attempting to expose the truth which has uncanny ties to Michigan and the court quickly seals the evidence.
Javino a twice convicted felon used in a 2016 smear campaign tying then presidential candidate Donald Trump to the Mafia. An iconic picture coupled with crushing headlines from countless media sources painted Javino and Trump together as much more than a random picture.  According to legacy media Javino impersonated an NYPD officer managing to slip past Secret Service and NYPD security measures into the secured area for the politically damning photo op.
https://abcnews.go.com/Politics/ted-cruz-questions-donald-trumps-ties-mob-linked/story?id=37260612
Evans also says the government recently made efforts to entice him into violating standard conditions of his probation by encouraging and coercing him to work "off the books" for the FBI, by providing information about January 6th in exchange for "monetary rewards," agents in his "corner," and "safety from further prosecution." Mr. Evans
According to Evans, FBI agents told him that "working for the government would be to his advantage" and asked how his probation was going. Mr. Evans explains a carrot-and-stick method of coercive tactics from his prospective handlers — escalating into veiled threats —culminating in what can only be perceived as flat-out intimidation.
Mr. Evans says FBI Agents told him to "read between the lines."
As a result of Evans' investigative work with Condemned USA and numerous independent parties in the Proud Boys' Seditious Conspiracy trial, confidential human sources, undercover D.C. Metro Police units, and the Department of Homeland Security were all exposed for various levels of involvement on January 6th previously withheld by prosecutor. Evans emphasized "The lies, corruption, cover ups, perjury by officers, bias of the Select Committee, Brady Violations and overall outrageous government conduct deprived countless January 6th defendants of their Constitutional Rights.
Evans believes it is this work — this public embarrassment of the government — that led to the increasing pressure from the DOJ that he and other members of his team are experiencing.
Evans further speculates that the government seeks to end his legal advocacy and thereby destroy his ability to assist in multiple January 6th defendants — "tampering" with his "right to engage in legal activities."
Evans contends that his investigative work and ongoing communication with members of the U.S. Congress represent an existential threat to criminal elements within the United States Government. He further elaborated regarding his cautiously optimistic view that there are members of Congress who will stand unabashed doing the right thing regardless of the circumstances.
While the enemies of freedom continue to press their current advantage, Mr. Evans asks that America SUPPORT his team's ongoing fight to EXPOSE the rampant corruption of a weaponized Department of Justice and corrupted government. He vows to remain above the trenches on the legal and political battlefield fighting injustice for this and future generations.
**DONATE to CondemnedUSA HERE**
***READ the full filing Below***
Trending: You Read It Here First: Joe Biden Will Step Down from Office After Sudden Medical Emergency Before Weak and Feckless Republicans Muster Up the Nerve to Impeach Him
Source material can be found at this site.