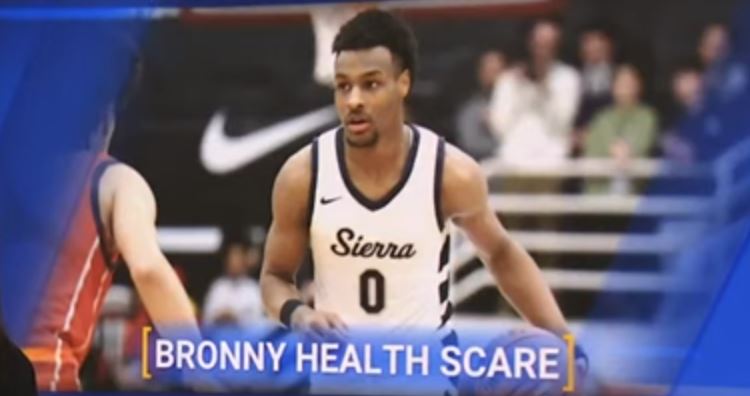 As reported earlier — Bronny James, the son of NBA Star Lebron James, suffered medical emergency at basketball practice on Monday morning and was rushed to the hospital.
Bronny, who recently committed to play college basketball at USC, was rushed to the ICU after suffering cardiac arrest during a basketball workout at USC.
A spokesperson for the James family stated, "Yesterday while practicing Bronny James suffered a cardiac arrest. Medical staff was able to treat Bronny and take him to the hospital. He is now in stable condition and no longer in ICU."
The spokesperson continued "We ask for respect and privacy for the James family and we will update the media when there is more information."
TMZ reported a 911 call was originally made on Monday morning from USC's Galen Center which is the place where the team plays. When first responders arrived on the scene they found Bronny unconscious.
Lebron James' 18 y/o son has suffered a heart attack during basketball practice

He is in stable condition and we all hope he pulls through

Unfortunately we likely know what happened here

When will people be held accountable for these crimes?https://t.co/FrliP16slg

— DC_Draino (@DC_Draino) July 25, 2023
As TGP's Anthony Townley reported earlier – Lebron James previously boasted about how the Covid-19 vaccine was the best thing for him and his family.
LOOK:
LeBron James says he got the COVID vaccine despite initial skepticism: "I felt like it was best suited for not only me but my family" https://t.co/xDXtGa5xV8

— CBS Mornings (@CBSMornings) September 29, 2021
UPDATE: Lebron is worried about his 18-year-old son. A cardiologist warns this could end Bronny's career.
LeBron James is 'scared and devastated' following his son Bronny's cardiac arrest during USC practice, friends have revealed.

The 18-year-old basketball protégé was rushed to hospital and admitted to ICU after collapsing at USC's Galen Center on Monday, his family confirmed today.

LeBron is 'making sure he gets the best care possible' and has entered 'full Dad mode and is protecting his son in any way he can,' a source told DailyMail.com.

Cardiologists have warned that Bronny's career – which was only just beginning following his high school graduation – could already be over.

Dr Christopher Tanayan told DailyMail.com: 'If they find something that puts him at a high risk for sudden death then that … may make or break his career.'
This is another tragic story that may have been preventable.
Source material can be found at this site.