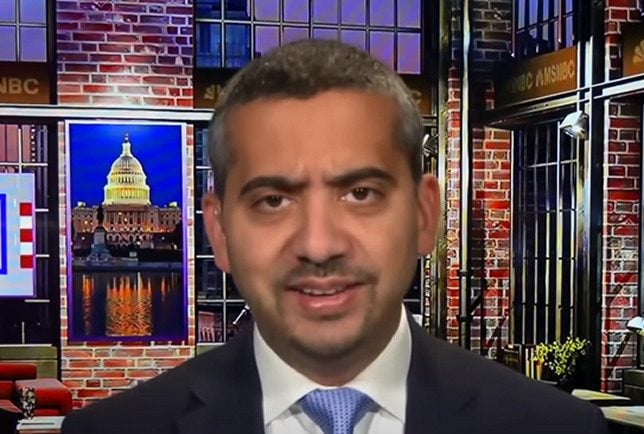 MSNBC's Mehdi Hasan is angry about the FOX News coverage of the Hunter Biden scandals. Having absolutely zero self-awareness, Hasan wondered on Twitter what would happen if Democrats had a propaganda arm in the media.
Apparently, Hasan has never heard of MSNBC. Or CNN. Or the New York Times, the Washington Post, NBC News, ABC News, CBS News, The View, the Huffington Post, etc.
This is the Twitter post that set Hasan off:
Hunter Biden has already been mentioned at least 104 times *this morning* on Fox News and Fox Business, according to a transcript search. It's not 10am eastern yet. pic.twitter.com/B4jrCZTggH

— Aaron Rupar (@atrupar) July 26, 2023
That made Hasan so angry that he wrote this:
Imagine if liberals or the Dems had a nationwide messaging apparatus, an actual propaganda arm, which pumped out Jared Kushner's name and alleged misdeeds daily, 100s of times. Then you start to understand the messaging imbalance in this country how GOP gets away with so much. https://t.co/IZ9zlwre2a

— Mehdi Hasan (@mehdirhasan) July 26, 2023
Here are a few choice reactions:
Hell, the media is the militant wing of the DNC https://t.co/hWzv3LdwJn

— Fusilli Spock (@awstar11) July 26, 2023
Imagine completely ignoring one of the biggest scandals in American history and still considering yourself a journalist. pic.twitter.com/GLkViF4YGu

— RareImagery ?? (@RareImagery) July 26, 2023
They do. It's called the media (Even though it should branded satire). You are a part of that messaging apparatus.

— Todd Weiss, CFA (@ToddWeissCFA) July 26, 2023
I don't have to imagine it. You're it.

— Pete Kramer (@PeteKramer29) July 26, 2023
This is some God-tier gaslighting, Mehdi. Well done.

— Daniel C. Evans (@danevanssays) July 26, 2023
You have to be kidding right? The left/liberal/democrat bunch are the best at getting their daily talking points out. Easy to spot right here if you follow just a few and they tweet the same stuff within minutes of each other.

— jdubbya (@jdubbya308) July 26, 2023
Imagine it? pic.twitter.com/R7s6QmvEZ1

— Kieran Eleison (@KieranEleison) July 26, 2023
It should also be noted that FOX News is not even as conservative as it used to be.
How could Hasan tweet this with a straight face?
Source material can be found at this site.