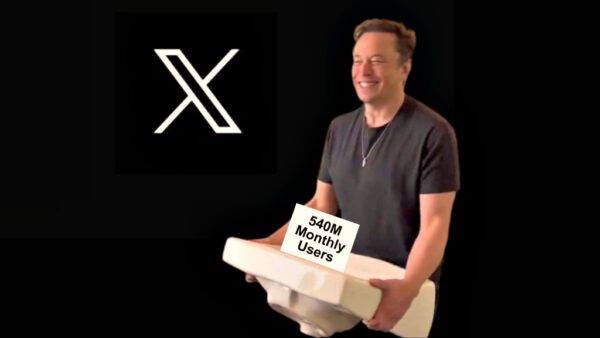 Elon Musk overpaid ($44B) for a troubled platform that seemed past its peak, marred by systemic censorship and an a seemingly endless bot infestation.
As he unveiled his strategy for Twitter 2.0, he was greeted by outrage by globalists and liberals of all stripes, accustomed to a 'echo chamber' that disseminated and protected the approved narratives of the powers that be.
Musk's pledge for freedom of speech was treated as 'lax moderation standards', and that generated a boycott of the platform by many advertisers.
And at the beginning of July, Mark Zuckerberg's Meta launched an imitation ('alternative') text-oriented app 'Threads', which many saw as the kiss of death to the dreams of the richest man in the world.
About a month later, Musk has rebranded his platform to 'X', and – while 'Threads' is already floundering – he has just announced record engagements stats for the platform.
monthly users reach new high in 2023 pic.twitter.com/trqLGBEvvA

— Elon Musk (@elonmusk) July 28, 2023
Reuters reported:
"Elon Musk said on Friday monthly users of social media platform X, formerly known as Twitter, reached a "new high" and shared a graph that showed the latest count as over 540 million.
Musk's post on X about the user figures comes as the company goes through organizational changes and looks to boost advertising revenue which has dropped in the recent month."
Twitter/X executives had talked about the 'strong traction' in usage earlier in the month.
"Since taking over, Musk has swiftly moved through a number of product and organizational changes. The company rolled out the verified blue tick as a paid service and has started sharing a cut of the ad sales with select content creators on the platform."
This good news come after Musk said earlier in July that the platform's cash flow was negative because of a nearly 50% drop in advertising revenue and a heavy debt load.
Musk posted a graph on which claimed that X had 541,562,214 monthly users in July.
Twitter added 1.6M daily active users this past week, another all-time high pic.twitter.com/Si3cRYnvyD

— Elon Musk (@elonmusk) November 22, 2022
New York Post reported:
"Also, this is after removal of a vast number of bots," Musk wrote in the same thread."
In the last spring, Twitter reported 237.8 million MDA users. Musk stated that 'as many as 20%' of those were bots .
"Musk has overhauled the social media app since acquiring it in a highly leveraged deal in October.
The ' scrapped the previous management's content moderation guidelines and restored the accounts of former President Donald Trump, the satirical news site 'Babylon Bee', and other voices critical of COVID lockdown measures and vaccines."
Musk hired former NBC Universal executive Linda Yaccarino as CEO with a mandate to win back advertisers.
"His rebrand last week to X angered many of the site's users, including novelist Stephen King, who decried Musk ditching the iconic blue Twitter bird."
Twitter Twitter Twitter Twitter Twitter
Twitter Twitter Twitter Twitter
Twitter Twitter Twitter
Twitter Twitter
And in case you didn't get that:
Twitter.

— Stephen King (@StephenKing) July 27, 2023
Source material can be found at this site.