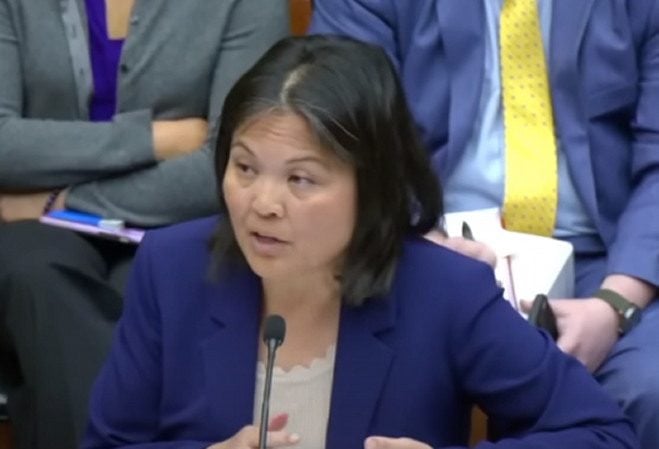 Joe Biden nominated a far left activist named Julie Su to be labor secretary and can't get her confirmed by the Senate, even though Democrats control the chamber.
As a result, Biden has decided to keep Su in the position as 'acting' labor secretary.
Republicans are showing some backbone on this issue and are now going after Su.
The Washington Examiner reports:
GOP lawmakers introduce bill to thwart Biden's labor secretary runaround

Congress and the Biden administration are warring once again.

A pair of GOP representatives have introduced a bill that would thwart President Joe Biden's efforts to install a Cabinet member without Senate confirmation.

"With this latest affront to the Constitution, American businesses may have no choice but to challenge Julie Su's status at the Department of Labor," Rep. Virginia Foxx (R-NC) said. "The Department of Labor Succession Act seeks to resolve the significant constitutional issues with the existing statute and put America's elected officials back in their proper role."

Foxx, chairwoman of the House Education and Labor Committee, dropped the bill in Congress along with Workforce Protections Subcommittee Chairman Kevin Kiley (R-CA).

Biden has been trying to confirm Julie Su as labor secretary since March and needs only a simple majority in the Senate to do so. But with Republicans and some centrist Democrats opposed, the president is using a legal loophole to keep her on indefinitely.
Meanwhile, this unconfirmed person is releasing statements on the Labor Department website:
STATEMENT BY ACTING US SECRETARY OF LABOR JULIE SU ON TENTATIVE COLLECTIVE BARGAINING AGREEMENT REACHED BY TEAMSTERS, UPS

Acting U.S. Secretary of Labor Julie Su released the following statement after a tentative labor agreement was reached today between leaders of the International Brotherhood of Teamsters and UPS:

"Today, leadership from the International Brotherhood of Teamsters and UPS reached an historic tentative agreement covering more than 340,000 Teamsters nationwide, ensuring stability for workers, businesses and the American economy. On behalf of the Biden-Harris administration, we applaud the parties for their perseverance and focus in achieving this hard-won, mutually beneficial deal. UPS and the Teamsters are a model of what a positive, productive labor-management partnership can achieve. They've also demonstrated, yet again, that when the collective bargaining process is allowed to work, the results are invariably good for workers, good for business, and good for America."
She has ZERO business doing this. She has not been confirmed to this position.
Julie Su faces bipartisan opposition over losing $32.6 billion to fraud and for championing policies that destroyed the livelihoods of countless freelancers. My bill will prevent Su from indefinitely serving in defiance of Congress and taking her record of failure nationwide. pic.twitter.com/no5qblTDZV

— Rep. Kevin Kiley (@RepKiley) July 28, 2023
The White House could be sued over Julie Su.

That's the buzz in Washington as the Biden administration attempts to keep Su on as acting labor secretary indefinitely and without Senate confirmation.https://t.co/YFLJDuLGUR

— Washington Examiner (@dcexaminer) July 26, 2023
Biden is a little too used to thinking he can just do whatever he wants. He can't.
Source material can be found at this site.