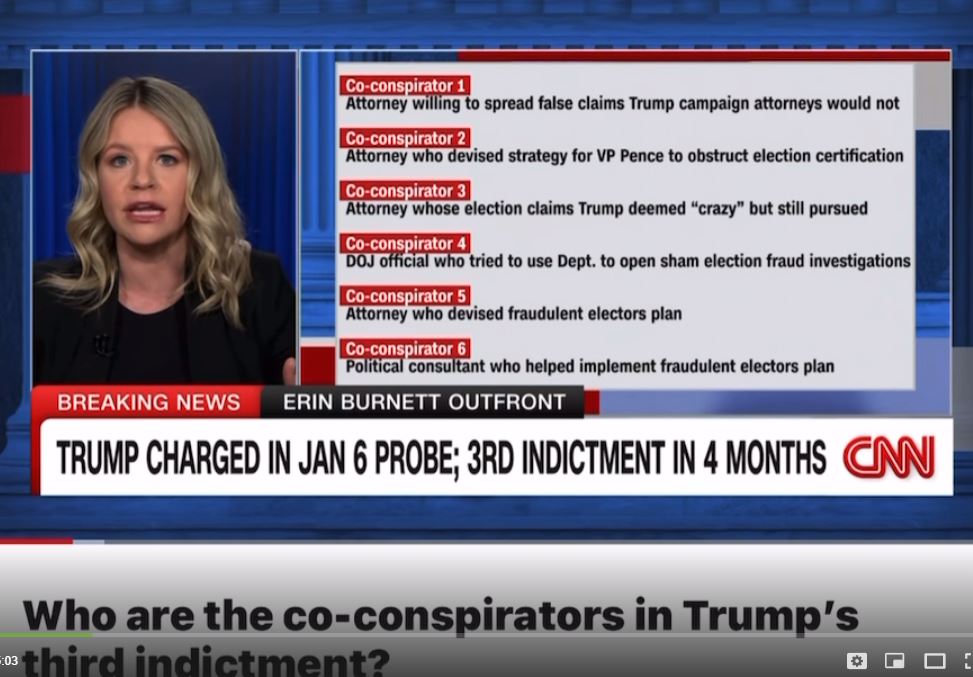 Once again, President Trump was indicted on Tuesday – the DAY AFTER Hunter Biden's best friend and business associate Devon Archer testified that the Joe Biden was included on 20 calls when his son was sitting with foreign officials arranging influence peddling deals for the family.
Archer also testified that Joe Biden met with Russia's Yelena Baturina who invested $40 million into Hunter Biden's real estate ventures. And she also paid Hunter Biden $3.5 million in consulting fees. Joe Biden later excluded Baturina from his Russian sanctions list.
So what happened next? President Trump was indicted again today by corrupt Special Counsel Jack Smith.
For those paying attention this is not the first time this has happened. There have been at least six times now where new evidence was released implicating the Biden Crime Family and then President Trump is indicted by the Biden regime the next day.
President Trump was indicted along with six co-conspirators.
There are SIX unnamed co-conspirators!
CNN named five co-conspirators that
Trump's co-conspirators, according to the indictment reviewed by The Gateway Pundit:
Rudy Giuliani – Co-conspirator 1, an attorney who was willing to spread knowingly false claims and pursue strategies that the Defendant's 2020 re-election campaign attorneys would not

John Eastman – Co-conspirator 2, an attorney who devised and attempted to implement a strategy to leverage the Vice President's ceremonial role overseeing the certification proceeding to obstruct the certification of the presidential election.

Co-conspirator 3, an attorney whose unfounded claims of election fraud the Defendant privately acknowledged to others sounded "crazy." Nonetheless, the Defendant embraced and publicly amplified Co-Conspirator 3's disinformation

Co-conspirator 4, a Justice Department official who worked on civil matters and who, with the Defendant, attempted to use the Justice Department to open sham election crime investigations and influence state legislatures with knowingly false claims of election fraud.

Co-conspirator 5, an attorney who assisted in devising and attempting to implement a plan to submit fraudulent sales of presidential electors to obstruct the certification proceeding.

Co-conspirator 6, a political consultant who helped implement a plan to submit fraudulent slates of presidential electors to obstruct the certification proceeding.
ABC News reported:
Former President Donald Trump has been indicted on charges related to special counsel Jack Smith's probe into efforts to overturn the 2020 election.
Source material can be found at this site.