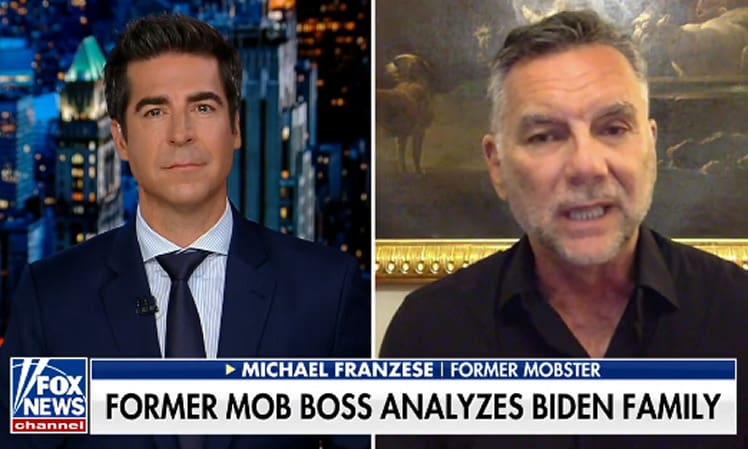 Michael Franzese is a former mobster who was part of the Colombo crime family.
After serving prison time for his crimes, he wrote books, started a podcast and he also speaks to kids about why they should avoid a life of crime.
Franzese appeared on the Jesse Watters show this week and suggested that the Biden family is committing the same crimes that sent him to prison.
Here's a partial transcript via the Powerline blog:
Jesse Watters: This is a family with over 20 shell companies offshore bank accounts, bribe allegations, millions in dirty foreign cash, no taxes paid. Most people like that end up in jail with that kind of record. And my next guest did. Michael Franzese is a former mobster with the Colombo family.

So Michael, what did you do to get convicted?

Michael Franzese: Well, it was a RICO case that I pled guilty on. I actually had three RICO cases – two of them were federal, one brought on by Rudy Giuliani and the other one was a state RICO case out of Florida. So I spent several months on trial defending one. I was fortunately acquitted in that case. I pled guilty to a second federal RICO indictment and also pled guilty to a third in Florida, so I'm very familiar with the statute.

JW: So the statute you understand is a kind of a conspiracy deal and obviously there was some taxes not paid. How is that similar and what you were doing similar to the Bidens?

MF: Well Jesse, you know, I had 18 shell companies and when I say shell companies, all these companies had was a bank account. They had no brick and mortar office, we had no employees, we had no product that we were selling – nothing. All we did was collect money and the money that I was collecting was tax money that we were defrauding the government out of.

And the only purpose, again, for these companies was to collect that money so, um, you know, it's, it's exactly the same thing that I see going on with Biden and I'm wondering why they're not asking certain questions. What service did you provide? What product did you sell? Why were you collecting this money? I mean these are easy questions, but there don't seem to be any answers to them.
Watch the whole video below:
Former mob boss, Michael Franzese, says he went to prison for the same crimes the Bidens have been committing for years pic.twitter.com/cr1oDihvb3

— Jesse Watters (@JesseBWatters) August 25, 2023
Biden is skating right now, mostly because the media keeps giving him a pass, but that could easily change.
The minute they think he can't win they will likely throw him under the bus.
Source material can be found at this site.