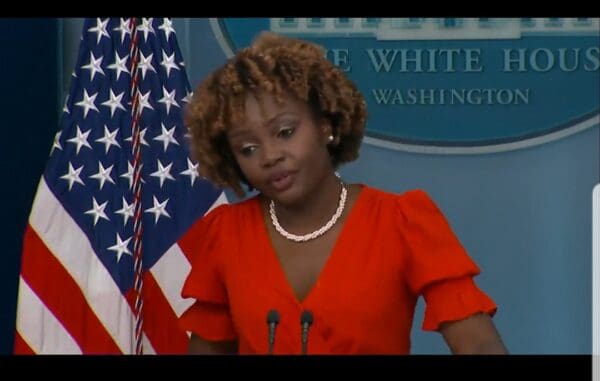 The Biden Regime just keeps going with lies and gaslighting the American public.
Karine Jean-Pierre on Thursday claimed that Joe Biden has done more to secure the border than anyone else.
How stupid do they think we are?
Karine Jean-Pierre: "The president has done more to secure the border and to deal with this issue of immigration than anybody else. He really has!"
Watch:
Karine Jean-Pierre: "The president has done more to secure the border and to deal with this issue of immigration than anybody else. He really has!"

Biden has overseen the worst border crisis on record. pic.twitter.com/TAa7hXRNIA

— RNC Research (@RNCResearch) August 31, 2023
Despite this outrageous claim, the facts show the opposite to be true. Millions of people have illegally crossed the border since the Biden Regime was installed in January of 2021.
Video from December of last year shows a massive migrant caravan of over 1,000 illegals crossing the border in El Paso, Texas.
WATCH:
BREAKING: A huge migrant caravan of over 1,000 people crossed illegally into El Paso, TX last night, making it the largest single group we have ever seen. The city of El Paso reports Border Patrol now has over 5,000 in custody has released hundreds to city streets. @FoxNews pic.twitter.com/ewUQX757Lt

— Bill Melugin (@BillMelugin_) December 12, 2022
This is not an anomaly but a regularly occurring reality in a nation without borders.
Hordes of illegals were seen crossing into Fronton, Texas earlier this month:
We encountered this large group of several hundred migrants that crossed illegally near Fronton, TX this morning around 3am. Mostly family units, kids infants, as well as unaccompanied minors. CBP source tells me large majority of families in RGV are released w/ a court date. pic.twitter.com/zktw8r4F82

— Bill Melugin (@BillMelugin_) August 10, 2023
The southern border is completely open. It is clearly evident that there is no effort to secure it. The Biden regime's policies not only keep the border open, but also encourage and celebrate illegal crossings. Makeshift bridges, the stopping of constructing the border wall, and even trying to prevent the state governments from stopping illegals.
Gateway previously reported on the border crisis:
The Gateway Pundit's Jim Hoft recently interviewed author and immigration expert Todd Bensman.
Todd a renowned immigration expert and longtime observer of the national border crisis, shed light on the current state of affairs at the US-Mexico border. Bensman's expertise and extensive experience in monitoring immigration patterns have made him a sought-after commentator on this issue. His insights have been featured in publications like the New York Post, and he has made several appearances on The War Room and Fox News often from the US border in Mexico.
The discussion began with Hoft questioning why the anticipated influx of immigrants following the revocation of Title 42 did not materialize. Bensman explained that the Biden administration had already scaled back the enforcement of Title 42 and had replaced it with a policy known as Title Eight Expedited Removal.
Source material can be found at this site.