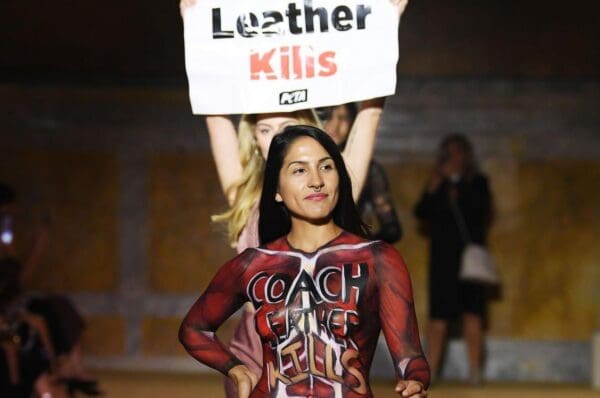 Activists with the ironically named "People for the Ethical Treatment of Animals" stormed the Coach runway, with one of them wearing just underwear and body paint, to protest the brand's use of leather.
"It's time to STOP selling someone else's skin and drop leather, @Coach!" PETA posted to X, the platform formerly known as Twitter, with a video of the stunt.
?? PETA is taking over the runway at #NYFW ??

It's time to STOP selling someone else's skin and drop leather, @Coach! pic.twitter.com/kl8aViHPVm

— PETA (@peta) September 8, 2023
The fashion show took place at the New York Public Library. Jennifer Lopez and Anna Wintour were among the guests seated in the front row.
The nearly-nude activist was painted to appear that she was skinned and had "Coach: Leather Kills" written across her bare chest.
PETA protesters at the Coach show… The drama is back just in time for Fashion Month!! ? pic.twitter.com/ixeYY0ZWVI

— Kea (@jacquemusx) September 8, 2023
"Today's conscientious consumers know that the future of fashion lies in innovative vegan materials, not in cows' sliced-off skin," PETA's Executive Vice President Tracy Reiman said in a statement. "PETA is shaking up Coach's catwalk to drive home the message that leather belongs in the annals of history, not in designers' current collections."
The irony in the situation comes from the fact that PETA has killed thousands of dogs and cats over the years.
Documents uncovered by PETAKillsAnimals.com indicated that following an inspection of the PETA facilities, the Commonwealth of Virginia was so shocked by the number of animals that they kill each year that the state inspector attempted to revoke their license to operate a shelter.
Dr. Daniel Kovich, the investigator with the VDACS that inspected PETA's animal shelter at its Virginia headquarters in July 2010, and determined "the facility does not contain sufficient animal enclosures to house the number of animals annually routinely reported as taken into custody."
It turns out this is because PETA has never intended to keep animals that are surrendered to them.
"After reviewing two months worth of records, Kovich found that 245 of the 290 animals–84 percent–that PETA took into custody were killed within 24 hours. Only 17 were reported as adopted or in foster homes. Kovich noted that PETA's shelter did not meet PETA's own published guidelines for operating a humane animal shelter," PETA Kills Animals reports.
In 2019, PETA killed 1,500 cats and dogs. The following year, PETA's so-called "shelter" took in 2,650 animals and euthanized 67% of them — 1,763 animals.
You can watch PETA be confronted about their euthanasia program and proudly admit to it here:
Source material can be found at this site.