Nurses and other healthcare workers who were unceremoniously laid off by MaineGeneral Health, because they refused to submit to the experimental Wuhan coronavirus (COVID-19) mRNA vaccines, recently received messages that the medical institution wants them back at work.
According to the Maine Wire, the hospital, which is one of Maine's largest healthcare providers, did not honor requests for religious exemptions, instead, it fired the workers and slapped them with misconduct charges for refusing to comply with Maine Governor Janet Mill's public health mandate two years ago. Many were even later denied unemployment insurance benefits.
Now, it is trying to win them back, because the hospital has eliminated the COVID-19 vaccination as an employment condition following the new state mandate. The messages that were sent out did not even reflect any remorse for the moral and financial damages the mass layoff has caused them.
"You were once a proud member of the MaineGeneral team. Would you consider rejoining us? We would be pleased to discuss options with you," the MaineGeneral Health Recruitment team said in a text message. "As you know, nearly two years ago MaineGeneral had to comply with a state mandate for COVID-19 vaccination. We lost a number of great employees as a result, including you."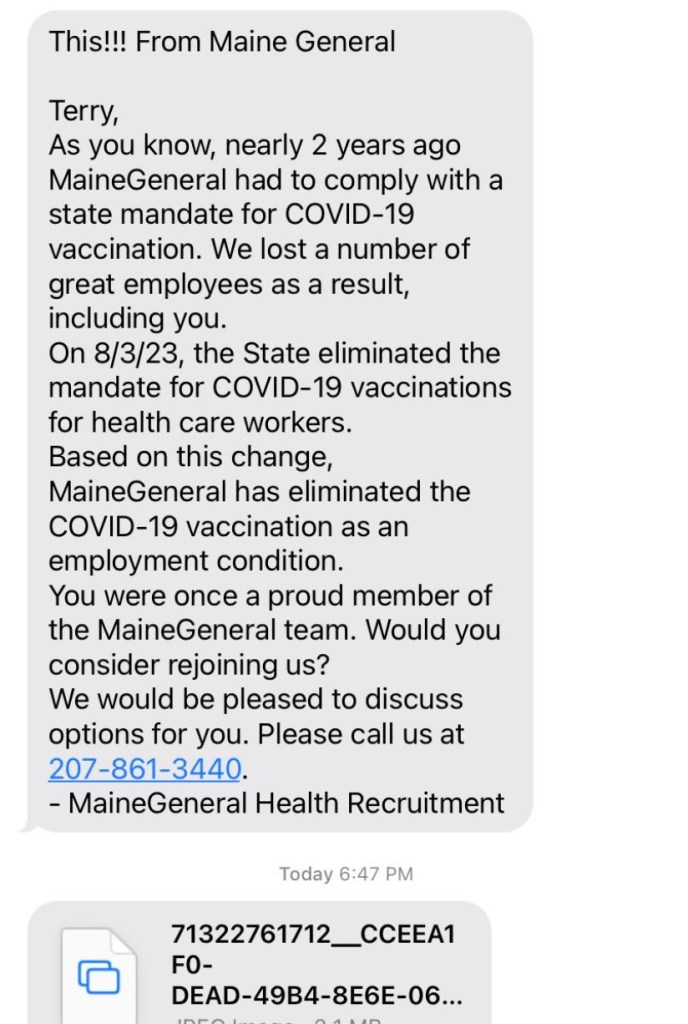 The former employees were exasperated, including former registered nurse Terry Poland, who shared the message she received from the employer that booted her. She lives in Augusta and has worked as a registered nurse for 33 years. Her career included employment with MaineGeneral, Central Maine Medical Center, Pen Bay Medical Center and the Aroostook Medical Center. She is in disbelief that the hospital would contact her in such a manner after casting her life into chaos for nearly two years. She made about $75,000 a year before being fired and now, despite her economic challenges, she did not take the offer.

"I was livid. Like, how dare you force me out of a career that I've dedicated my whole life to, take away my livelihood, my ability to earn a good income, and now you think I'm gonna come grovel back to you?" Poland said. "I don't hardly think so. And that's the attitude of almost everybody that I've been in contact with since yesterday."
The news outlet gathered that about 15 former hospital employees received similar text messages. Joy McKenna, director of communications for MaineGeneral, said only "a few people" have been interested in returning. "There has been positive energy between human resource personnel and managers who are in the process of working together to reach out to former employees to see if they are interested in returning, McKenna said in an email. "Since Monday, we are only aware of a few people who have indicated that they are interested in having a conversation about applying for an open position. We currently have 453 open positions, which is similar to our pre-COVID open position count."
Some nurses who were fired and later fought back in court have scored victories. (Related: VINDICATED: School district agrees to REINSTATE and PAY teachers fired for refusing COVID-19 shots.)
MaineGeneral and Governor Mills: "Take the jab or lose your job and all of your options"
The Maine Wire, meanwhile, reviewed Maine Department of Labor documents that reflect that MaineGeneral "discharged" Poland. The papers also revealed that her refusal to get the injections was a violation that constituted a "culpable breach of obligations to the employer."
Left with limited to no choice following the termination, the nurse relied on her savings amid the inflation and public health mandates, such as lockdowns, that killed the economy at the peak of the pandemic. She also sought help from the federal Equal Employment Opportunity Commission, claiming that she'd been discriminated against on the basis of her religious beliefs.
MaineGeneral Health, in responding to the commission, argued that allowing Poland religious accommodations would impose an "undue hardship" on the hospital. So, the commission declined to take on her case. The Maine Human Rights Commission also rejected her discrimination complaint.
At the time Poland was fired, she was working at the MaineGeneral Rehabilitation and Long Term Care at Gray Birch Augusta facility, which provides nursing home and assisted living services and has a 37-bed capacity. Federal stats show the facility had 141 staff before the mandate and 110 after it was enforced. In the years since she was fired, she estimates she's earned only $12,000 and $17,000 as a home healthcare worker, a position that hasn't provided similar benefits to the job she lost.
According to the local media outlet, it is virtually impossible to determine how much of the sharp drop in healthcare employment has been caused by Mills' order, how much of it was caused by COVID-19, and how much of it was caused by lockdown policies generally.
As per the stats from the U.S. Bureau of Labor Statistics, job cuts have been particularly acute in Maine's nursing homes and assisted living facilities. In 2019, Maine had more than 22,600 individuals employed at nursing homes. That number fell to 19,800 in 2022.
Check out MedicalTyranny.com to read more about the draconian public health mandates that suppressed health freedom at the peak of the pandemic.
Sources for this article include:
Source material can be found at this site.