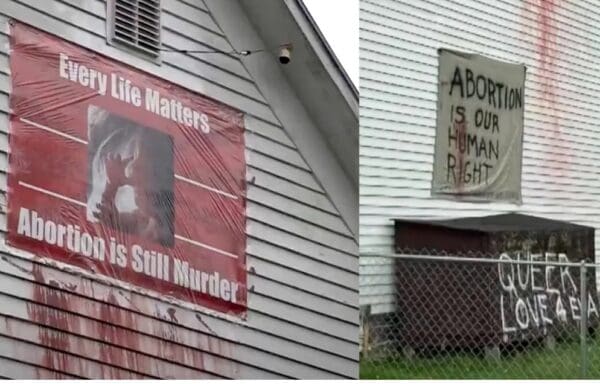 A Maine church was vandalized over the weekend with LGBTQ and pro-abortion messages.
Members of the Second Baptist Church in Palermo are now asking for the vandalism to be investigated as an anti-Christian hate crime.
A pro-life sign that read "Every Life Matters," and "Abortion is Still Murder," was splattered with red paint, and a new sign was hung that said, "Abortion is our human right."
The vandal, or vandals, also painted "Queer love 4 eva."
In a statement posted to social media, the church said, "Our church once again was the recipient of vandalism and destruction. At least two vehicles occupied by more than one accomplice used the cover of darkness to destroy property at the church along with nailing up signs to the building and defacing the property with paint."
"While our hearts hold nothing but love and forgiveness for these cowardly vandals, we also recognize this for what it is, a hate crime against a religious group. It is a targeting of a congregation for their sincerely held religious beliefs."
State Representative Katrina Smith, a member of the church, told News Center Maine, "This is an escalation of violence against the church."
Rep. Smith is among those who believe that the incident should be investigated as a hate crime.
"Well to me, it's a hate crime. This is a group of young children, families, just local people, and they have done nothing to speak out against any of the issues right now," Rep. Smith continued.
The report explains, "This is not the first time the church—which has often publicly displayed its views on abortion and LGBTQ+ rights—has been the target of vandalism. In 2019, someone rearranged the letters in the sign reading 'Jesus made Adam N Eve not Adam and Steve.' And before this week's vandalism, another bucket of paint spilled over the anti-abortion sign."
Source material can be found at this site.