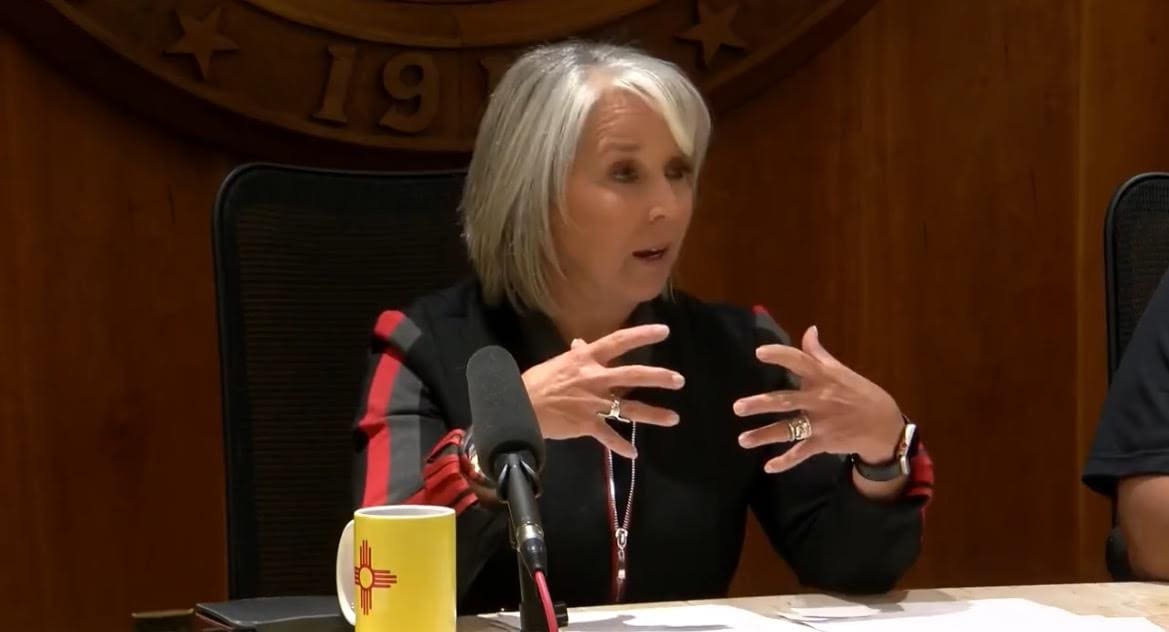 New Mexico's Democrat Governor just took another hit after she unilaterally suspended the Second Amendment in Albuquerque.
A federal judge on Wednesday temporarily blocked New Mexico Governor Michelle Lujan Grisham's gun ban.
U.S. District Court Judge David Urias, a Biden appointee, issued a temporary restraining order against Grisham's gun grab.
Reuters reported:
A federal judge in New Mexico on Wednesday issued a temporary restraining order against state Governor Michelle Lujan Grisham's ban on carrying guns in Albuquerque and its surrounding county, on grounds it violated the U.S. constitution.

U.S. District Court Judge David Urias said the governor's 30-day suspension of concealed and open firearm carry rights went against recent U.S. Supreme Court rulings and violated the rights of law-abding citizens to defend themselves.
Democrat Governor Michelle Lujan Grisham on Friday declared gun violence a public health emergency in response to the shooting deaths of a thirteen-year-old girl on July 28, a five-year-old girl on August 14, and an eleven-year-old boy on September 6.
"The action plan includes a suspension of open and concealed carry laws in Bernalillo County, temporarily prohibiting the carrying of guns on public property with certain exceptions. Exceptions include for licensed security guards and law enforcement officers. Citizens with permits to carry firearms are free to possess their weapons on private property (such as at a gun range or gun store), provided they transport the firearm in a locked box, use a trigger lock, or some other mechanism that renders the gun incapable of being fired," according to the press release.
Virtually no one is backing Grisham after she unilaterally suspended the Second Amendment in Albuquerque.
Visibly armed gun owners openly defied Grisham and rallied in Old Town, Albuquerque on Sunday shouting, "We will not comply!"
Everyone is turning against Grisham – including her own Attorney General – a fellow Democrat!
New Mexico's Democrat Attorney General Raul Torrez on Tuesday informed Grisham he will not be defending her.
"I am writing to inform you that my office will not defend your administration in the above referenced cases challenging the Public Health Emergency Order Imposing Temporary Firearm Restrictions, Drug Monitoring and Other Public Safety Measures (the Emergency Order) issued by the Secretary of Health on September 8, 2023," Raul Torrez wrote in a 4-page letter.
"Though I recognize my statutory obligation as New Mexico's chief legal officer to defend state officials when they are sued in their official capacity, my duty to uphold and defend the constitutional rights of every citizen takes precedence. Simply put, I do not believe that the Emergency Order will have any meaningful impact on public safety but, more importantly, I do not believe it passes constitutional muster," Torrez added.
Torrez scolded Grisham for taking unilateral action to suspend gun rights.
"However, I encourage you to engage in a more thoughtful and deliberative process with members of the New Mexico Legislature rather than taking unilateral action that infringes on the constitutional rights of law-abiding citizens while having little if any discernible impact on the underlying dynamics driving gun violence in our community," Torrez wrote.
Source material can be found at this site.