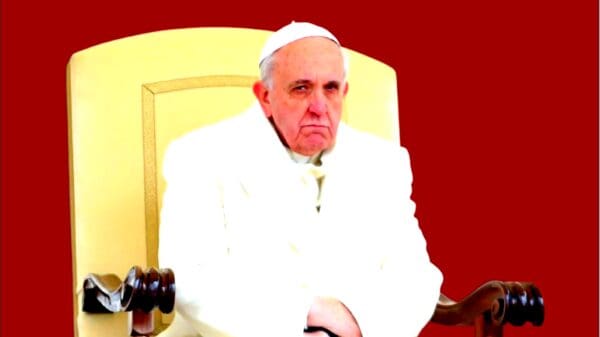 Pope Francis is spending a couple of days in the southern French city of Marseille, where, along with President Emmanuel Macron and his wife Brigitte, he is attending the "Rencontres Mediterraneennes" meeting.
It is the first visit by a pope to France's second largest city in 500 years, and more than 100,000 people are expected to turn out to see the 86-year-old pontiff.
Francis' visit comes as the EU is shaken by the overwhelming number of migrants arriving, leading to countries in Europe implementing border fences, repatriations and even talking about the the possibility of a naval blockade to keep refugees out.
Out-of-touch Pope Francis 'challenged French President Emmanuel Macron and other European leaders to open their ports to people fleeing hardship and poverty.'
Yeah, right. He declared that 'the continent does not face a migration emergency' but rather, 'a long-term reality' that governments must deal with humanely.
Euronews reported:
"For a second straight day in the French port city of Marseille, Francis took aim at European countries that have tried to close their doors to migrants and tried to shame them into responding with charity instead.

'May we let ourselves be moved by the stories of so many of our unfortunate brothers and sisters who have the right both to emigrate and not to emigrate, and not become closed in indifference," Francis told Macron and others at a Marseille conference centre where Mediterranean region Catholic bishops are meeting. "In the face of the terrible scourge of the exploitation of human beings, the solution is not to reject but to ensure, according to the possibilities of each, an ample number of legal and regular entrances'."

The pope's visit comes as Italy's conservative government has reacted to a new wave of arriving migrants by threatening to organize a naval blockade of Tunisia and to step up repatriations.
The French government has also stepped up patrolling on its southern border, to try to stop migrants arriving in Italy from crossing over.
"Macron's centrist government has taken a harder line on migration and security issues after coming under criticism from French conservatives and the far right. With elections for the European Union's parliament set for next year, Macron is pushing for the EU to strengthen its external borders and to be more efficient in deporting individuals who are denied entry."
Francis' two-day trip takes place as mass migration to Europe is once again out of control.
Nearly 7,000 migrants came ashore on the tiny Italian island of Lampedusa within a day last week, briefly outnumbering the resident population.
Ignoring the incredible burden that this puts on European families, Francis said that the 'talk of a migration emergency' only fuels 'alarmist propaganda' and stokes fear.
"'Those who risk their lives at sea do not invade, they look for welcome, for life' he said. 'As for the emergency, the phenomenon of migration is not so much a short-term urgency, always good for fueling alarmist propaganda, but a reality of our times, a process that involves three continents around the Mediterranean and that must be governed with wise foresight, including a European response capable of coping with the objective difficulties'."
Pope Francis decried what he called the 'fanaticism of indifference', although he exercises this same lack of compassion he criticizes: only it is aimed at the European populations, whose security and standards of living Francis does not care if he sees destroyed.
"The difficult conditions that cause many people to leave their homes, and the risks they take in doing so, have been a key theme during Francis's decade as head of the Catholic church.

Speaking at the Vatican [before departing for Marseille], he said migration 'represents a challenge that is not easy, but which must be faced together'. He emphasized the need for 'fraternity, putting human dignity and real people, especially those most in need, in first place'."
The French president, Emmanuel Macron, met the pontiff for one-to-one talks today, before attending a mass with almost 60,000 people.
Trending: Who's Bossing Biden? After Joe Biden Announces Trip to Join UAW Picket Line to Counter Trump, Former Jill Biden Press Sec Panics: "Ugh no, please don't do this to him"
"Meanwhile, some on the French far right took aim at the pope's welcoming message on immigration. Marion Maréchal, the niece of Marine Le Pen and a candidate for European parliament elections next year for the Reconquête party led by the far-right TV pundit Éric Zemmour, said last week: 'I disagree with Pope Francis. He has the prism of a South American pope who doesn't actually know the type of immigration we know and who clearly doesn't fully realize what we're dealing with'."
Read more about it:
Conservative Bond: Italian Salvini and French Le Pen United Against Mass Migration, Ahead of EU Elections Next Year
Source material can be found at this site.