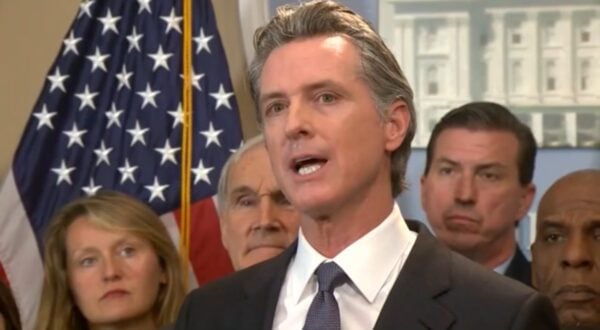 In an interview published by Bloomberg earlier this month, California's Democrat Governor Gavin Newsom was asked if he ever talks about artificial intelligence with any of his kids.
Newsom answered in the affirmative and said that he was concerned about "micro-cults" influencing his children.
Gavin Newsom is in a panic because his son listens to highly popular podcaster Joe Rogan, Canadian professor Dr. Jordan Peterson, and British media personality/influencer Andrew Tate.
"I really worry about the misinformation, disinformation, about what's happening with our country, but I really worry about these micro-cults that my kids are in. I say micro-cults because I don't know if there is a better way to describe it. My son is asking me about Andrew Tate and Jordan Peterson. And then he is immediately talking about Joe Rogan."
The reality is that Jordan Peterson, Joe Rogan and Andrew Tate are not cult leaders nor are they associated with cults.
Governor Newsom is classifying those men as cults to discredit them. Joe Rogan, Jordan Peterson and Andrew Tate have large followings of young men on social media. Perhaps Governor Newsom is afraid of them because they are outspoken against tyrannical and authoritarian politicians, which Newsom would fall into concerning his record.
Gavin Newsom is worried about "misinformation" and "micro-cults" online because his son is asking him about Andrew Tate, Jordan Peterson, and Joe Rogan.

— KanekoaTheGreat (@KanekoaTheGreat) September 20, 2023
Jordan Peterson, who has a great sense of humor, responded to Governor Newsom.
"We're coming for your children Gavin Newsom," Jordan Peterson said on X.
"We plan to turn Your boys Into men And girls Into women," he said.
We're coming for your children@GavinNewsom
We plan to turn
Your boys
Into men
And girls
Into women

Within the dark
Pathways
Of our micro cult@joerogan https://t.co/WPm2eATA8S pic.twitter.com/3KjkBdkZCO

— Dr Jordan B Peterson (@jordanbpeterson) September 22, 2023
Tim Pool trolled Gavin Newsom for panicking over his children being fans of Jordan Peterson, Joe Rogan and Andrew Tate.
WATCH:
Looks like Governor Newsom was in over his head on this one. Perhaps if he is concerned about his children's role models, he should start leading by example and stop destroying California with his leftist policies, especially with those regarding public schools. That is where the indoctrination and misinformation is coming from.
Source material can be found at this site.