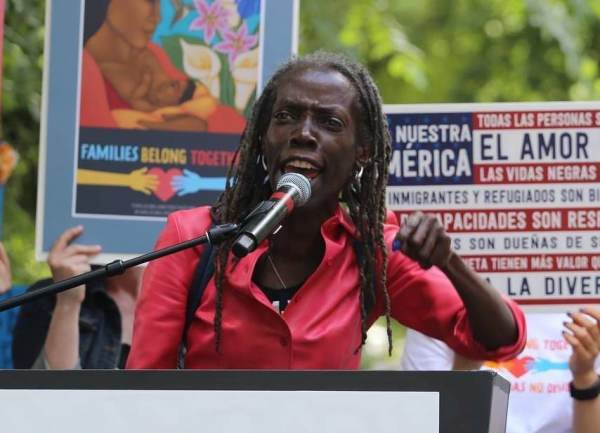 Portland police agreed to pay former Portland City Commissioner Jo Ann Hardesty nearly $700,000 in a lawsuit settlement after officers allegedly leaked false information about her involvement in a hit-and-run to the Oregonian.
Jo Ann Hardesty spearheaded the movement to defund the police and has even demanded Mayor Ted Wheeler hand her control of the police bureau.
Hardesty originally sought $3 million from the police association, $1 million from an officer, and another $1 million from another officer, but they settled out of court. She was mistaken to be a hit-and-run driver with a 911 caller back in March of 2021. An officer had shared that information with a friend who was an activist who later shared the information on a live stream.
Hardesty was cleared of the hit-and-run but decided to sue the police association and 2 officers.
The police union in Portland, Oregon, and two officers agreed to pay a former city commissioner $680,000 to settle claims that they leaked information falsely implicating her in a hit-and-run.

Jo Ann Hardesty's lawsuit seeking $5 million was scheduled to go to trial this week. A jury would have been asked to decide if police racially discriminated against Hardesty, the first Black woman to serve as a Portland city commissioner and a staunch advocate for defunding the police in 2020.

The city of Portland settled its portion of the lawsuit in August for $5,000 and a written apology from Mayor Ted Wheeler.

The dispute began in March 2021 when a 911 caller mistakenly identified Hardesty as the driver who rear-ended her and fled the scene.

A Portland Police Bureau (PPB) officer leaked the accusation to an activist friend who later shared the information on a livestream, an internal review conducted last year found. Then-union president Brian Hunzeker also leaked the false information to a reporter, according to Hardesty's lawsuit.
During her time as city commissioner, Hardesty routinely lashed out at police. She called for defunding the Portland Police during the 2020 riots and even alleged that police "'saboteurs' were starting fires and infiltrating the crowds of protesters who took over Portland's streets for more than 100 consecutive nights," according to Fox News.
Her extreme stance to defund the police and turn Portland into a trash pile of crime, cost her reelection.
The Gateway Pundit previously reported on Hardesty in 2020 when she had called the police on a Lyft driver over Covid protocols even though she had called for the defunding of the police.
Source material can be found at this site.