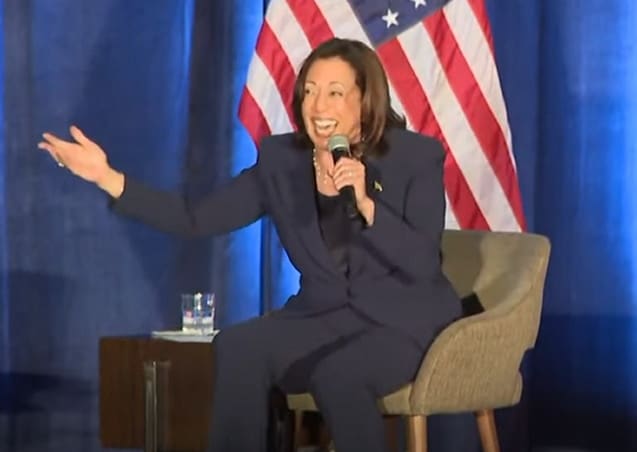 Kamala Harris was recently speaking to Democrats in St. Louis when she launched into a bizarre laughing fit.
At the time, she was talking about the Biden/Harris economic policies, which are obviuously terrible.
Why does she do this? Is it a nervous tic?
RedState reports:
People Wonder if Kamala Harris Was High After Hysterical Laughing Fit

Kamala Harris may be the most uninteresting major politician on the scene right now. It's hard to express how terrible of a politician she is, and somehow, she continually manages to get worse. Friday provided the perfect example of that a clip emerged showing her devolving into a hysterical laughing fit that left people wondering whether she was high in the comments.

While appearing in St. Louis, MO, to speak to the state's Democratic Party, Harris was asked about the current economic reality (which isn't good). Her response came across as some deranged mix of The Joker and Dr. Evil…

HARRIS: Popular, popular, popular! We just need to let everybody know who brought it to them.

(maniacal laughter)

HOST: Receipts. Amen.

HARRIS: That's doable!

(more maniacal laughter)
Here's the video:
Kamala Harris laughs hysterically after claiming Biden-Harris policies are "POPULAR, POPULAR, POPULAR!"

"We just need to let everybody know who brought it to 'em. Ha ha ha!" pic.twitter.com/Mg2ilPTm9h

— RNC Research (@RNCResearch) October 6, 2023
Is She High ?

— Roy Carlyle 2 (@RoyCarlyle2) October 6, 2023
It's a valid question.
Laughs hysterically?
She sounds drunk https://t.co/VBkiJKoPhM

— Non-DeProgrammed Deplorable Petr (@PragueArtist) October 6, 2023
Can we stop pretending that there isn't something seriously wrong with this broad? https://t.co/QiTcRNgFb9

— LadyPatriot (@Marechtare_) October 6, 2023
Please triple down on how popular your policies are, Kamala. Make this an ad! https://t.co/j0L3wAffxZ

— Brother Seamus (@WaynePelota) October 7, 2023
What is wrong with her?
Source material can be found at this site.