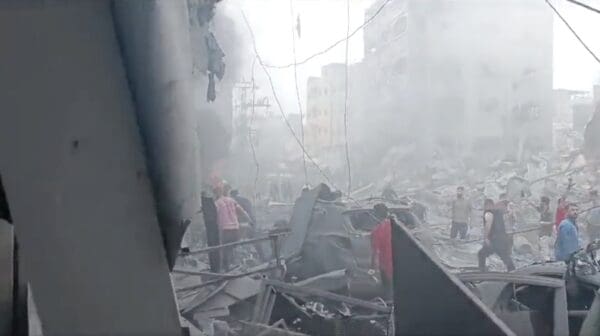 The Israeli Ministry of Defense and the Israel Defense Forces (IDF) have issued an urgent warning to the United Nations, Axios reported.
Just before midnight, the UN was notified to evacuate its staff and inform Palestinians living north of Wadi Gaza to move to the southern part of the Gaza Strip within the next 24 hours. The message was confirmed by UN spokesperson Stéphane Dujarric and another source with direct knowledge of the situation.
More than 1 million Palestinians reside in the area north of Wadi Gaza. The sudden warning from the Israeli authorities could be a precursor to an imminent ground operation by the IDF.
According to sources who spoke to Axios, the IDF's rationale behind the urgent notification is to minimize civilian casualties during their military operations.
According to IDF, Hamas deliberately hides military targets in residential buildings and civilian areas. Hamas is using children as human shields. Hamas has been using a school—in close proximity to civilian buildings including a hospital—to hide a terror tunnel.
The Israeli military has been carrying out heavy airstrikes in Gaza since Hamas terrorists attacked Israel last Saturday. A "complete siege" has also been imposed on the enclave, home to more than 2 million Palestinians.
Stéphane Dujarric, the UN spokesperson, told Axios, "Today, just before midnight local time, team leaders of the UN Office of the Coordination of Humanitarian Affairs and the Department of Safety and Security in Gaza were informed by their liaison officers in the Israeli military that the entire population of Gaza north of Wadi Gaza should relocate to southern Gaza within the next 24 hours."
Dujarric continued, "This amounts to approximately 1.1 million people. The same order applied to all UN staff and those sheltered in UN facilities – including schools, health centers, and clinics."
"The United Nations considers it impossible for such a movement to take place without devastating humanitarian consequences," Dujarric added. He also strongly appealed for the order to be rescinded, warning that it could transform an already tragic situation into a calamitous one."
The following is the IDF announcement sent to civilians of Gaza City:
The IDF calls for the evacuation of all civilians of Gaza City from their homes southwards for their own safety and protection and move to the area south of the Wadi Gaza, as shown on the map.

The Hamas terrorist organization waged a war against the State of Israel and Gaza City is an area where military operations take place. This evacuation is for your own safety.

You will be able to return to Gaza City only when another announcement permitting it is made. Do not approach the area of the security fence with the State of Israel.

Hamas terrorists are hiding in Gaza City inside tunnels underneath houses and inside buildings populated with innocent Gazan civilians.

Civilians of Gaza City, evacuate south for your own safety and the safety of your families and distance yourself from Hamas terrorists who are using you as human shields.

In the following days, the IDF will continue to operate significantly in Gaza City and make extensive efforts to avoid harming civilians.
IDF announcement sent to civilians of Gaza City:

The IDF calls for the evacuation of all civilians of Gaza City from their homes southwards for their own safety and protection and move to the area south of the Wadi Gaza, as shown on the map.

The Hamas terrorist organization…

— Israel Defense Forces (@IDF) October 13, 2023
During the weekend,  Prime Minister Benjamin Netanyahu issued a stark warning to the Hamas terrorists and vowed to use "all the strength" of the Israel Defense Forces (IDF) to "destroy Hamas's capabilities."
"Hamas wants to murder us all. This is an enemy that murders children and mothers in their homes, in their beds, an enemy that abducts the elderly, children, and young women, that slaughters and massacres our citizens, including children, who simply went out to enjoy the holiday," Netanyahu said.
Trending: Office of Prime Minister Netanyahu Releases Horrifying and Disturbing Photos of Babies Murdered and Burned by Hamas Terrorists That Was Shown to Anthony Blinken
Netanyahu assured the Israeli public that the "entire government is behind this decision," signaling a unified stance among Israel's political leadership. He also indicated that the IDF would "immediately use all its strength to destroy Hamas's capabilities."
"We will destroy them and will forcefully avenge this dark day that they have forced on Israel and its citizens," he declared.
"'Revenge for the blood of a little child has yet been devised by Satan.' All of the places which Hamas is deployed, hiding and operating in, that wicked city, we will turn them into rubble."
In a direct message to the residents of Gaza, the Prime Minister said, "Leave now because we will operate forcefully everywhere." He revealed that the IDF is already "clearing the terrorists out of the last communities," going "community by community, house by house," to restore Israeli control.
On Monday, Israeli Defense Minister Yoav Gallant announced a "complete siege" on Gaza. The blockade includes a ban on the admission of food, water, electricity, and fuel. This move is seen as Israel's retaliation against Hamas following their largest attack on the country in decades.
The Israeli Defense Forces (IDF) have initiated "Operation Swords of Iron". This military operation aims to strike back at Hamas and protect Israeli citizens from further harm. The operation involves a coordinated effort between various branches of the IDF, including ground, air, and naval forces.
Editor's note: This story has been updated with additional information.
Source material can be found at this site.