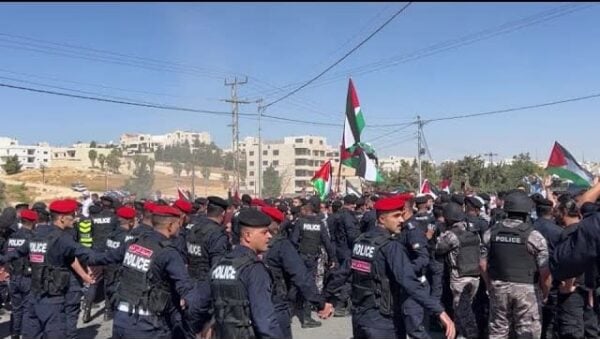 Jordanian police fired tear gas at protesters who were marching towards the West Bank border in solidarity with Palestinians. The Jordanian government has asked people to avoid confrontations amidst the growing tensions. Some protesters accused the Jordanian police of "treason" for their actions.
The protests in Jordan were part of a larger 'Day of Jihad' called by Hamas. The terrorist group urged tribes and armies from neighboring countries to join the fight against Israel. Khaled Meshaal, the head of Hamas's office in the diaspora, said that the governments and people of Jordan, Syria, Lebanon, and Egypt had a responsibility to support Palestinians in Gaza.
WATCH:
Footage online showed protesters in #Jordan marching towards the #Israeli border on Friday.

Jordanians are responding to Palestinian calls for global solidarity after days of heavy Israeli bombardment on the #Gaza Strip pic.twitter.com/Xw58lOX4Us

— Middle East Eye (@MiddleEastEye) October 13, 2023
Report: Hundreds of Jordanians are marching towards the border fence with Israel as part of the call from Hamas for a 'Day of Rage'

Jordan had said on Thursday that it would not allow protests on their border with Israel pic.twitter.com/CFt1FLd1yH

— i24NEWS English (@i24NEWS_EN) October 13, 2023
An unprecedented number of people filled the streets of the capital of Jordan

If King Abdullah II is in Raghadan (royal palace), then an attempt to evacuate members of the Hashemite dynasty from Amman using helicopters or American special forces cannot be ruled out.

Despite… pic.twitter.com/06NlnM8shk

— Sprinter (@Sprinter99800) October 13, 2023
Jordanian forces use tear gas to prevent protestors from reaching border with Israel amid Hamas call for 'Day of Rage' pic.twitter.com/exVflFNA3L

— i24NEWS English (@i24NEWS_EN) October 13, 2023
JUST IN: Jordanians have broken through the army blockades and are now headed towards the Israeli border..

DEVELOPING..

— Chuck Callesto (@ChuckCallesto) October 13, 2023
Source material can be found at this site.